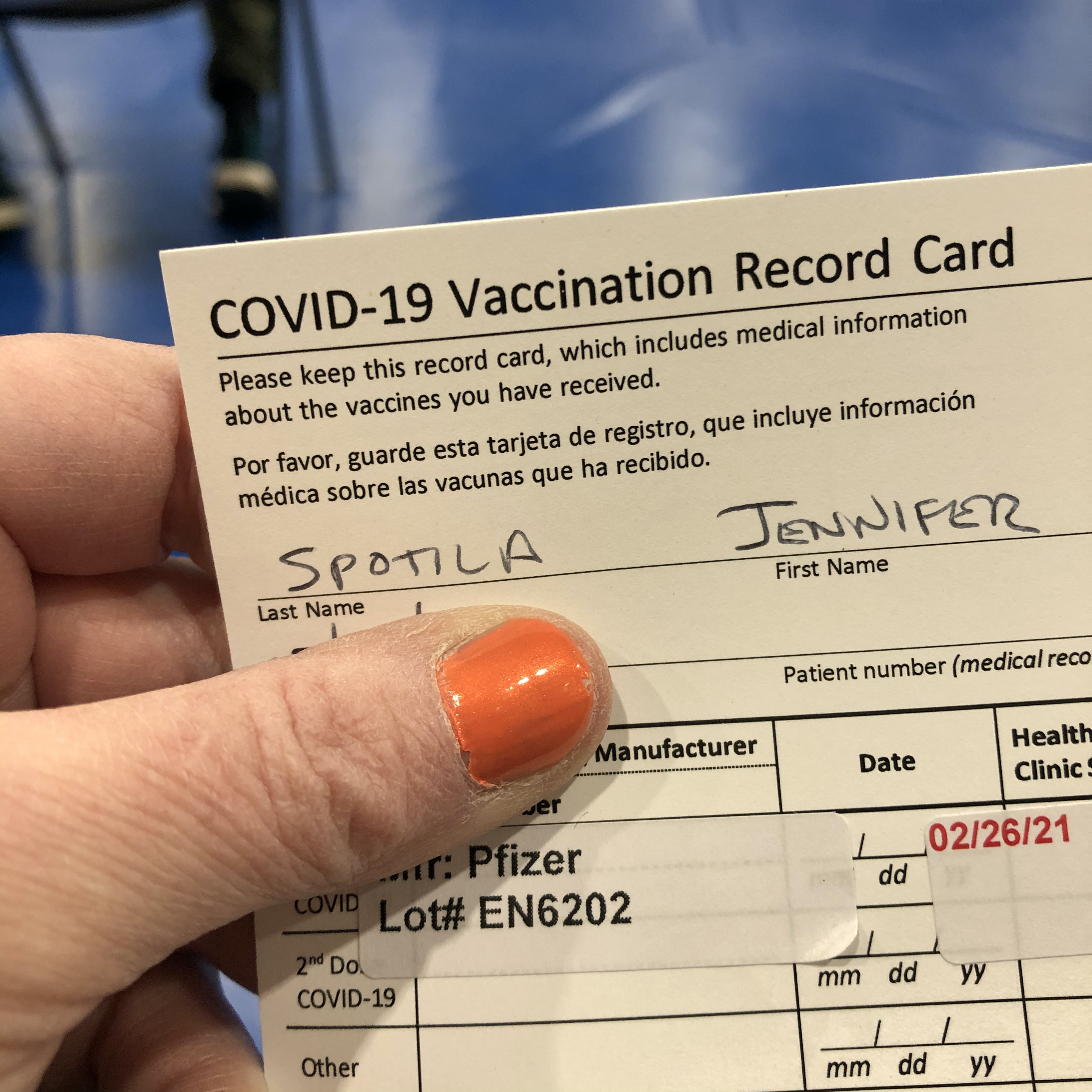 I got my first COVID-19 vaccine dose!! Since so many people with ME have legitimate concerns about the vaccines, I thought it would be helpful to share my own experience.
Two weeks ago, I described the melee competition for vaccines in my area. I was prepared to wait however long it took, and I spent time every day going through all the possible options to get an appointment. A very kind friend made me an appointment for mid-March at a pharmacy in Philadelphia, but it wasn't clear if the pharmacy was restricting the vaccine to city residents. Finding an appointment closer–and sooner–was my goal.
Then last week, I got an email from my county! My place in line had come up and I had a chance to make an appointment. The catch was that slots were only open during the next two days. That can be tricky for anyone's schedule, and a more severely ill ME patient might need more lead time in order to rest and prepare. I was so eager for the vaccine, though, and 48 hours notice was doable for me. And I got an appointment for my husband too!
I know many people are concerned about the potential for allergic reactions to the COVID-19 vaccines, particularly if they have mast cell disease. I have mast cell activation syndrome, and it is generally well controlled by medication. The Mast Cell Disease Society recommends people avoid the vaccine only if you know you are allergic to one or more ingredients in it, or are otherwise advised by your doctor. They also recommend pre-medicating with your H1 histamine blocker one hour before the vaccine. My doctor concurred, so that's exactly what I did. One hour before the appointment, I took an extra dose of my H1 blocker. Also on the advice of my doctor, I skipped my beta blocker the night before.
The vaccine process itself was a little overwhelming. Our appointments were at a local high school, and there were a lot of people there. The signage wasn't great, so it wasn't clear where to go to register versus where to wait for the shot. Fortunately, there were many volunteers directing traffic and answering questions. I was thrilled to see people volunteering to help! We've been so isolated for the last year that I had no sense of whether this was happening at all. Those volunteers were essential to keeping things running smoothly.
Once we knew where we were going, it was quick to get registered and in line for the vaccine. If you have mobility issues, including difficulties waiting in line, you might want to call ahead to your vaccination site. The entire place was wheelchair accessible, but there was no obvious accommodation for people who needed to sit while waiting. I'm sure a volunteer would have assisted if I needed it, but ask in advance if you have concerns.
Getting the vaccine itself was quick, of course. The nurse did ask me what my specific underlying conditions were, which caught me off guard. We had been told we would not need to disclose the conditions that qualified us for the shot. However, when I started listing them she said, "Oh ok, nothing that will interfere with me giving you the vaccine." After the injection, she directed me to the observation area. She said, "If you start to feel any different than you do right now, raise your hand and someone will help you."
The post-vaccination observation was self-timed, which I thought was interesting. There were volunteers watching over people and checking on them, but they weren't timing us to ensure we stayed at least 15 minutes. One person felt faint and needed to lie down. I've heard from friends that this is not unusual, but I don't know if feeling faint after this vaccine is common everywhere. Keep it in mind, though, especially if you have any orthostatic intolerance issues. Fortunately, I felt completely normal (for me) so we left after about 20 minutes.
Now to the after effects, which is what I think concerns most people with ME. A few hours after the vaccine, I got a headache and then crashed. I managed to eat something and then had to be horizontal. The same was true the next day. I had both muscle aches and random joint pain in places I don't usually get it. And the malaise was no joke. I slept a lot, and was in bed most of the day. The good news is that the next day, I was approaching baseline. And since then, I have had a normal-for-me week.
The bottom line of my personal experience is pre-medicate with an H1 blocker, and prepare for one or more crash days post-vaccination. Most people (not just people with ME) report that the second vaccine dose triggers more intense side effects. I'm preparing myself for that to happen when I get dose two in a few weeks. For me personally, I am very willing to go through a bad crash in order to know that I won't die or even be hospitalized if I end up getting COVID-19.
Have you gotten a COVID-19 vaccine? What was your experience like?