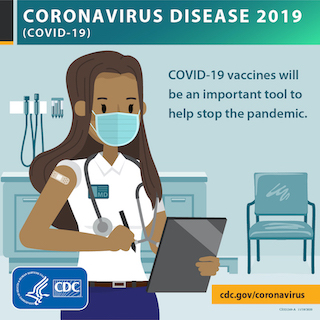 The COVID-19 vaccine rollout has been uneven, to put it kindly. In my home state of Pennsylvania, it's been a mess (that's also putting it kindly). The actual situation has a lot more in common with a Black Friday scramble for a PlayStation 5. Or the Battle of Pelennor Fields.
Here's how I thought the process would work: The federal government would send a supply of vaccine to the state based on population demographics, and the state would send it out to the counties. The counties would control distribution to providers (like pharmacies and hospitals) and also offer vaccinations direct to the community. People would sign up on one list with the county (or state), and then wait their turn as the vaccine supply increased from a trickle to a torrent. I thought we had learned from past mass vaccination campaigns.
I was naive, to put it kindly.
Here's how it's actually playing out here: The federal government sends a small fraction of what Pennsylvania requests, less than a quarter of the request in one recent week. No one seems to know how the feds decide how much to send. Pennsylvania then distributes that reduced supply to the counties and to providers who are willing to vaccinate, but the Department of Health has not explained how they decide how much each entity gets. The providers and counties then offer the vaccine to eligible people.
That sounds straightforward enough, although the low supply is an obvious problem. My county estimates that more than 200,000 people are currently eligible for vaccination, including both my husband and me. Last week, the county received only 3,900 first doses for the entire week. There is no public reporting on how many first doses were sent directly to other providers in the county. Two months into the vaccination campaign, less than 10% of those eligible have been fully vaccinated.
Yet the barriers to vaccination here extend far beyond the low supply. Pennsylvania decided not to create a central registry of people who want to be vaccinated, and no one has offered a plausible explanation for why. Instead, Pennsylvania left it up to the providers to figure out. Note that I said providers, not counties. Every single vaccine provider in the state has to figure this out, and there are about 1,700 participating providers.
If you want to get a vaccine from an independent pharmacy, you need to get on their list. If you want to get the vaccine from a primary care practice, you need to get on their list. Large health systems like Jefferson Health and Penn Medicine have their own obscure method and have told patients, Don't call us, we'll call you. The counties have lists too. Putting your name on the county list only gets you in line for a county-provided vaccine. The county list does not interface with the other providers. So everyone has to sign up with each provider as well as the county. While our county is encouraging people to get the vaccine anywhere they can and to sign up for lots of lists, the state is actually discouraging people from doing that (although no one has explained why).
Larger chain pharmacies are running a completely different process. Rite Aid and Walgreens and other chains don't have waiting lists. They offer appointments through their websites, except it's not clear when they post the new openings. You have to be lucky and looking at the website at exactly the right moment because the appointment slots disappear within seconds.
Then there is the problem of line jumpers. My county is using a state-provided program called PrepMod to manage vaccine sign ups and appointments. When it's your turn to be vaccinated, the county send you an email with a link to make your appointment. But PrepMod doesn't create unique single-use links. The links can be used by more than one person. So people are forwarding the links to family and friends and they can make appointments, too. Even if they are all eligible under the current vaccine phase, it still means they are jumping the line.
The end result is an absolute melee. Last weekend, an independent pharmacy announced it was opening 400 slots, and 15,000 people tried to get one. The appointments were gone in less than one minute. I managed to get my husband an appointment by some miracle, but not one for myself.
Individuals in Pennsylvania have to surmount multiple barriers to get vaccinated. First, you have to know what distribution phase you qualify for. Then, you have to decipher the decentralized process to even know where to start. You need access to the internet, and it really helps if you read and speak English. You have to sign up at as many places as you can find. If you can spend hours refreshing screens on your computer, you have an advantage. If someone sends you a sign up link, you have an advantage. If you know someone who knows a pharmacist, you might be able to skip the line altogether. People with access and means can get vaccinated, and they get other eligible people vaccinated. If you don't have access to the internet or don't understand the labyrinth, then you are not getting vaccinated right now.
This is due to a failure of leadership at the federal and state level, and is replicated to one degree another in most states. At some point I hope there is accountability for that. The current problems in Pennsylvania are well recognized and acknowledged by the county and the state. The county is trying to come up with a workaround to prevent line jumpers. The state now requires providers to offer some appointments by phone, and is concentrating the new supply among a smaller number of providers. Everyone keeps asking us to be patient.
Oh, I'm being patient alright. I check a long list of provider websites at least twice a day. I fill out the sign up forms at retail pharmacies every time, and then try to find a pharmacy within a 50 mile radius with open appointments. I check the county numbers to see if they have started scheduling people who signed up the day I did. I watch the weekly briefings from my county and the state, and I'm reading as much as I can in the news.
And I'm trying really hard to not let the search for a vaccine take over my life. It's not healthy for me to refresh web pages for hours a day. I only leave the house about once a month, and I double-mask when I do go out. I know the vaccine supply will increase and eventually my turn will come. I'll stay as safe as I can until it does.
But I can't help thinking that there must be a better way.