Self-care is one of those internet buzzwords that people casually throw around, as if a coloring book or a kitty will solve all your problems. I'm not knocking coloring books and kitties, but generally I think that kind of advice feels like bringing a cup of water to a dumpster fire.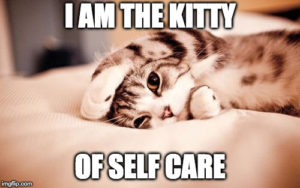 I have a lot to cope with, and if you have ME (or care for someone who does) so do you. On top of the challenges that all humans face, dealing with ME is a daily and difficult hill to climb. My symptoms cause physical misery. My significant physical limitations cause downstream physical and emotional difficulties. Just the supposedly simple task of making sure there is food in the refrigerator takes major effort (and that's with grocery delivery). Getting through my best day requires delicate balance, and my bad days . . . well, those are ugly.
A coloring book is not going to fix ME, but without a treatment nothing else will make it go away either. What I have learned (the hard way) is that self-care is not about making it all better. Self-care doesn't fix anything. Self-care is about restoring our strength – physical, emotional, and spiritual – so that we can continue. I have had to think deeply about how to make self-care work for me.
Foundational Self-Care
The first lesson is always to go back to the basics. Food. Fluids. Rest. Shower. Clean clothes. In the healthy world, these are all givens and completed without much thought. For people with ME (or other chronic/serious health problems), these basics can easily be our entire effort for the day or week. The severely ill need assistance with these basic activities. That sucks. It is not fair. Our lives were not always like this. And none of that changes reality. In order to keep living, we need nutrition, hydration, and hygiene.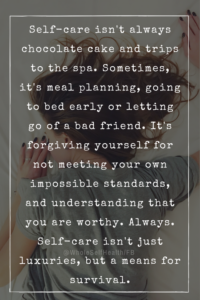 After triaging these foundational needs of sustaining life, there are more basics to consider. I really like Jennifer Mulder's suggestion that we identify the basic checklist of what we need to do each day to be ok. This could mean prayer or meditation. Some people might be able to go outside for fresh air. I recommend connecting with a loved one and talking about anything besides being sick.
The other basic category is identifying what you need to do to manage your health. This includes doctor appointments (do not neglect preventive care!), taking your medications and supplements, and eating whatever is nutritious for you. If it helps you to have a therapist, try to make that possible within your insurance and physical limitations.
One of the most common forms of self-care advice is physical exercise. Chances are that your healthcare providers  – and/or your friends, family, and fellow chronic disease peeps –  have suggested it. My personal feeling is that people with ME should do whatever physical activity they can do safely, and no more than that. The most severely ill may struggle to roll over or sit up in bed. Can you stretch? Walk around the room? Do one flight of stairs? Can you sit upright with your feet on the floor for awhile? People who are moderately ill may be able to tolerate careful and tailored physical therapy for core strength or neural glide. If you can take a short walk, do it! No one can tell you what or how much physical activity is safe for you, and it will probably change over time. Experiment carefully, monitoring how you feel in the moment and in the following days. We know that too much physical activity can be seriously harmful, and we are right to be cautious. Physical activity is important for our health, but stay within your safe limit and do not apologize for doing so.
Acts of Self-Care
Practicing foundational self-care is the limit some (or most) days. But if you can, look for ways to pile on the self-care. There are lots of ideas and tips out there. Check out this list or this one, both of which are drawn from people with chronic illness. Here are some other prompts for you to consider.
Environment: What can you change that would increase your comfort? At different times, I've tried: grocery store flowers, a window bird feeder, a different blanket, a new picture of my niece and nephew, a scented candle. Looking at something different has helped when I have been bedridden.
Entertainment: Can you listen to music? I realized that I do this when I am feeling ok but not when I'm crashed. Others need music when they are crashed. Can you listen to podcasts or audio books? Can you watch tv? Now that my husband and I are both disabled, we have gone through multiple binge watchings of things like the Great British Baking Show and Mystery Science Theater 3000. I love documentaries. He loves anything and everything in the Marvel Cinematic Universe. And sometimes, I just need to watch a woman spectacularly kicking ass, like Fury Road, because we are not things.
Hobbies: Most people with ME have lost the ability to engage in some or all hobbies from their healthy lives. I miss hiking, with a piercing sadness. But when I can, I knit or read. Playing the cello has become an act of emotional and spiritual self care for me. Can you adapt hobbies for your current limitations? Can you try something new? Creativity is essential for me, and I've written elsewhere about the power of taking even tiny steps along that path.
Emotional: Chronic illness brings on all the feels, and often not good ones. What helps you cope with unpleasant emotions? Can you connect with someone you love, or someone new? Can you cultivate gratitude? Can you find joy in new ways? I rely on Toni Bernhard's writing on coping with chronic illness, especially "weather practice." I also rely on my faith, especially in my darkest times.
Laugh: Laughter – or even smiling – has a positive effect on your body, including your immune system. But when you are sick, it can be hard to find anything funny. Sometimes, I try to imagine that I have a Patronus to chase away the ME "Dementors." Is there a memory you can draw on that makes you smile? My guaranteed smile generator is watching a video or my niece and/or nephew being unbearably cute. What triggers your sense of humor? I'm pretty snarky, so I'm more likely to watch MST3K than a romantic comedy. My friend Barb sends me cute/funny pictures of sloths, lizards, and kittens. My friend Joey and I exchange super obnoxious memes and gifs. Get laughs any way you can.
Self-care is about restoring our strength – physical, emotional, and spiritual – so that we can continue. Sometimes, a coloring book or a kitty will do the job. Sometimes you need to escape, and sometimes you need to turn inward and reflect. Just as our bodies need sleep and food, our spirits need comfort and sustenance. People with ME or other chronic diseases cannot afford to neglect any of these.
What do you do to restore yourself?