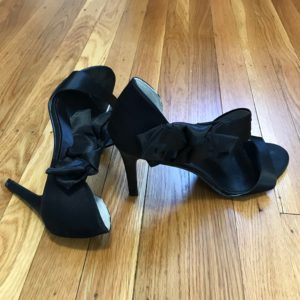 I was never a talented dancer, but I loved it.
I quit ballet lessons when I was in the 3rd grade because it was hard. I struggled to learn the simple choreography in school musical productions. I never learned to swing dance or czardas. When I did dance, I looked like that little girl in the Charlie Brown Christmas special. Even in my wildest dreams, I couldn't dance to Beyonce like these women.
I made up for this lack of talent with enthusiasm. I didn't clean my apartment; I dance-cleaned. I didn't move to the beat; I shook my booty (when no one was watching).
Then I got sick with ME, and my last dance was at my wedding. I had been sick for more than a year by then, but the doctors were still telling me I would get better. I was not about to let this disease take my wedding away from me. So I danced with my husband (At Last) and my Dad (Sweet Baby James) and my Grandpa. I even danced with my friends, a little.
My husband and I celebrated our 22nd anniversary a little over a week ago. We haven't once grooved to a beat or even slow danced in the kitchen in all that time. I couldn't dance at my brother's wedding, either. I couldn't go to my Dad's wedding reception, let alone dance at it.
Twenty-two years together, without a single dance.
My illness might have been preventable, but not by me. I could not have prevented it by using a condom or by avoiding under-cooked food. Wearing a seat belt would not have prevented my disability. Nor was it the inevitable result of a genetic defect or the typical aging process.
My disability was made possible by the failure of the scientific and medical systems to address this public health crisis. There has been grossly inadequate investment in research, and there is also a history of disinformation and stereotyping perpetuated in research and healthcare. This was true in the 1980s. It was true in the 1990s, when I got sick. And in the 2000s. And it is still true as we approach the end of the second decade of this century.
If you see ME, you are watching a disaster advancing before your eyes. It's not a disaster because the powers that be are simply unaware of it; they know. And it's not a disaster because ME is a difficult disease to unravel. After all, cancer is a difficult disease to unravel. What can we do about complicated problems? We invest the resources needed to solve them.
ME is an unsolved mystery because the biomedical research enterprise has consistently refused to invest the funding and expertise needed to figure it out.
NIH points out that it has nearly doubled its investment in ME research from 2016 to 2017. But even NIH has admitted that ME funding must be 10 to 20 times its current level. Compared to the need, NIH funding went from .04% 4% of the need in 2016 to .07% 7% of the need in 2017.* In other words, double of practically nothing is still practically nothing.
While NIH is waiting for a round of grateful applause from people with ME, it is the people with ME who suffer. We disappear from our lives; we struggle to get through each day; we lose careers and dreams and families. We die.
We miss our old lives. We miss big things like career milestones and family events. We miss mundane things, like driving or running errands or walking around the block. We miss the freedom that healthy abled people have to simply do whatever their bodies and minds want to do, without making themselves sick.
We miss being able to dance with our loves. Even just once in twenty-two years.
Today is a global day of protest by and for the Millions Missing. I am missing something that is both small and as unattainable as the sun.
Just one dance.
*Edited May 18, 2018 to correct mathematical errors.