Am I the only person who feels like she is in a leaky boat, surrounded by sharks?
Pretty much every time I look at Facebook, Twitter or the news, I find another leak in the boat. And when I look at the things that need doing in my life, I begin to wonder how bad it would be to fall overboard.
So in these uncharted waters, I offer you the things that are helping me #Resist, as well as what is helping me #Persist.
First of all, I basically can't handle the news. It's upsetting, and I quickly get sucked into background reading and fact checking. So I am trying to stay informed without getting overwhelmed, and What The Fuck Just Happened Today? helps me do that. It's a list of what happens each day with links for more information. The only trouble is that it does skew heavily towards the left, and so I know that I am not necessarily getting dispassionate info. There's always NPR.
I am also trying to broaden my perspective by listening to new (to me) voices. One gem is the See Something, Say Something podcast. It's an honest examination of being Muslim in America, complete with legal information and Muslim memes. I love it.
I am also drawing courage from other people's struggles. Crippled Scholar wrote this fabulous piece about why she is not worried about alienating allies. I recently read How to Survive a Plague, the detailed book accompanying the film of the same name. It is inspirational, moving, frustrating and motivating. I highly recommend both the book and the film.
On the ME front, there is this great post about successful "bird dogging," which is timely in the United States as Senators and Representatives hold town hall meetings in their districts. Johanna Kaiser made these outstanding remarks during the NIH telebriefing on February 1st. Seriously, if you want to get fired up, read/listen to her. Finally, if you need a dose of inspiration, watch Jen Brea's TED Talk (again).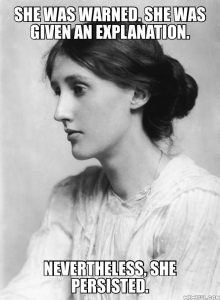 It is very important to persist, but also to avoid burnout. I see this in my Twitter feed a lot – how to participate in current events while making sure you still take time for self-care. This is especially critical for sick people! Here's what's working for me right now:
I periodically check in with myself: have I eaten? do I need pain meds? do I need to lie down? do I need a quieter environment? do I need to turn my phone off?
I make sure I play the cello every day I am physically capable. I am knitting a cashmere shawl for myself. My husband and I are working our way through a series of funny movies.
I'm also much more aware of the importance of art in my daily life, in a variety of forms. I don't normally use my spoons for museums, but I made an exception this month and was rewarded by The Starry Night over the Rhone at Arles and Water Lilies (Nymphéas). I also just discovered the work of Michael Robinson. In my more natural environment of words and stories, I am loving the Lore podcast. And although my to-read list may soon eclipse my life expectancy, I am eagerly awaiting my copies of The Stars Are Legion by Kameron Hurley, Thunderbird by Chuck Wendig, and Through the Shadowlands by Julie Rehmeyer. 
Most of all, I am trying to bring mindfulness and compassion to my day. If I am making coffee, I only make the coffee. I don't try to take out recycling at the same time. If I am on the phone with a friend, then I focus on that and not on the other things that might distract me. And if I am not able to get something done, even if it desperately needs doing, I am trying not to beat myself up for it.
This is a long haul, and I want to persist.