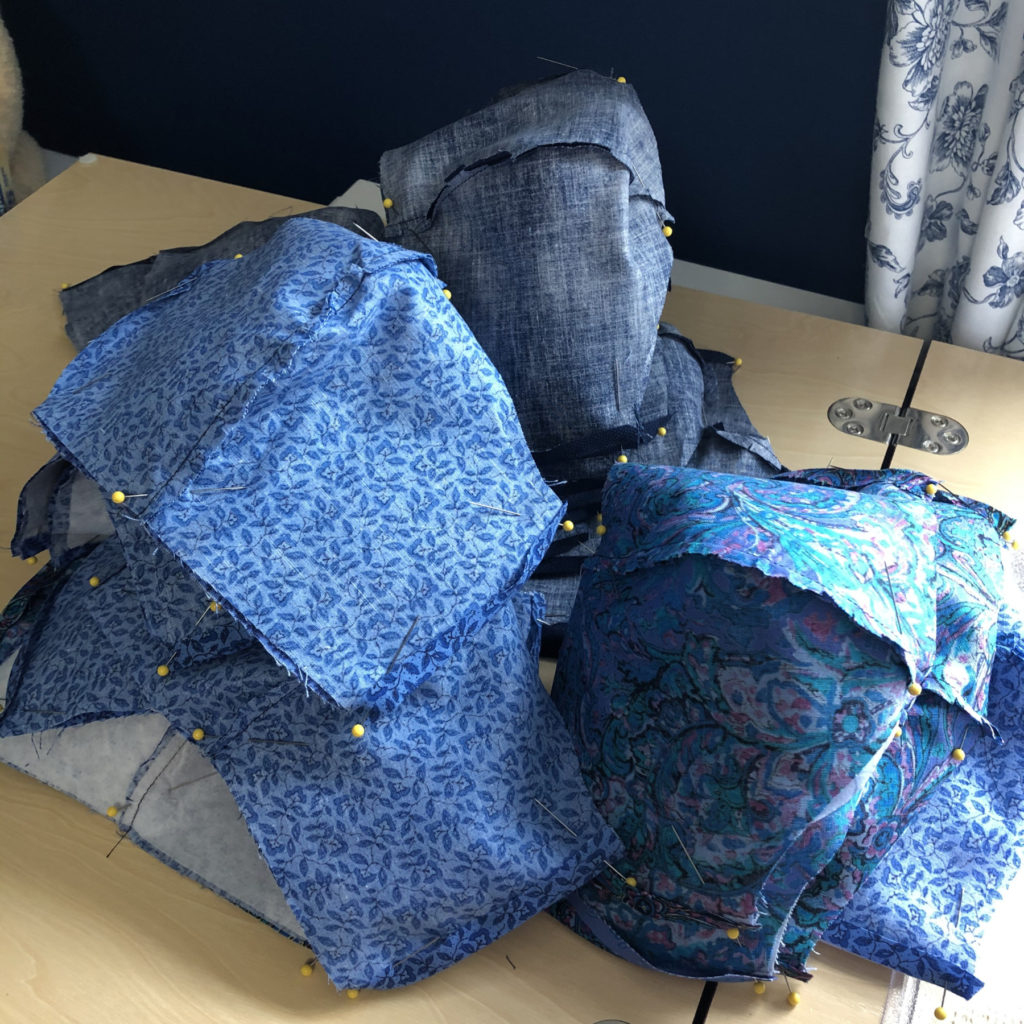 I've lost count of the number of masks I've sewn. More than sixty, at least. I was sewing even before the CDC recommended that everyone wear masks, because I knew that my husband and I needed them. When the official word came out, I started sewing for my family and friends. Now I'm sewing masks for a local organization that donates them to institutions in need.
Sewing the masks is not technically difficult, but it is physically challenging for me. I've spent hours making the masks in batches, repeating each step a dozen times before moving on to the next. I stand at my cutting table, sit at the sewing machine, stand at the ironing board, then back to the machine, then the ironing board again, and so on.
I sew until I am too exhausted to stand up. Many of my family and friends are high-risk due to age, illness, or employment/living conditions. I pushed myself hard to get them the masks they needed. Now that I'm donating masks to healthcare workers, I feel even more pressure to sew as much and as quickly as I can. I crash after every sewing session, my brain fuzzy and my body beaten by pain. And then the next day, I get up and push myself to that point again.
I know this level of effort is not sustainable, and maybe even unreasonable to attempt. Perhaps I am tempting fate: if I push too hard, I could crash for days or weeks. Plus, I live in a rich country that should have been better prepared, and that should have prepared its citizens. It's absurd that anyone needs to rely on me–a sick and disabled person–for a face mask. In 2020, shouldn't medical supplies be made in factories?
Yet there is a long tradition of ordinary people making medical supplies for others. Every war–including modern war–has required home labor to maintain essential supplies for battle. This isn't something that ended with Scarlett O'Hara rolling bandages for Confederate soldiers in the Civil War.
During World War I, the American Red Cross organized volunteers to make surgical dressings for American soldiers overseas. Earlier in the war, volunteers–including socialites and children–made bandages for wounded French soldiers.
Volunteers did more than roll bandages. The Red Cross organized an enormous knitting effort in support of the troops. Sweaters, socks, helmet liners, scarves, and more were all desperately needed. This was not busy work for idle ladies. Everyone was knitting all the time. School children, elderly men, college students, train conductors, prison inmates, and even wounded soldiers participated. Those who could not knit were encouraged to purchase yarn for others to knit. Between 1917 and 1919, the Red Cross estimates that Americans produced 370 million knit items.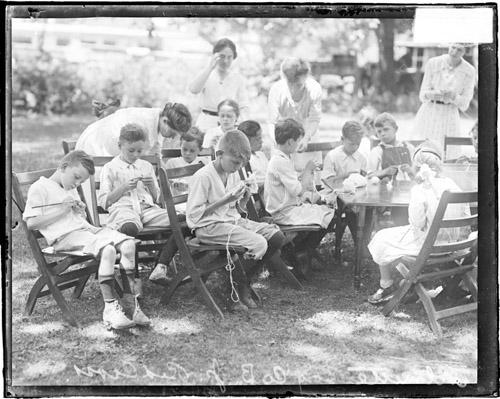 America (and the Red Cross) picked up where they left off and knit for World War II soldiers as well, even before Pearl Harbor. In November 1941, Life magazine proclaimed: "To the great American question 'What can I do to help the war effort?' the commonest answer yet found is 'Knit.'" As they had in World War I, civilians knit clothing and bandages for soldiers, officially organized under the auspices of the Red Cross. And it wasn't just Americans. British knitters, from London cabbies to the Queen, all contributed.
What is remarkable about these civilian production efforts is that it's only one of the ways people helped. Manufacturers pivoted factory production from consumer goods to war material. Women entered the workforce to take up jobs that had previously been held by the men who were now in the armed services. Families relocated to be near war production centers, living in crowded and hastily constructed housing. Rationing became a fact of life in North America, with enforced restrictions on meat, dairy, sugar, and shortening, as well as tires, fuels, nylon, silk, and shoes. Everyone recycled everything, including foil gum wrappers, rubber bands, and fat drippings. Neighborhood scrap drives collected paper and metal, and everyone was asked to buy war bonds.
And guess what the Red Cross volunteers of World War I did when there was no need for more surgical dressings? They started making masks for the influenza pandemic of 1918-1919.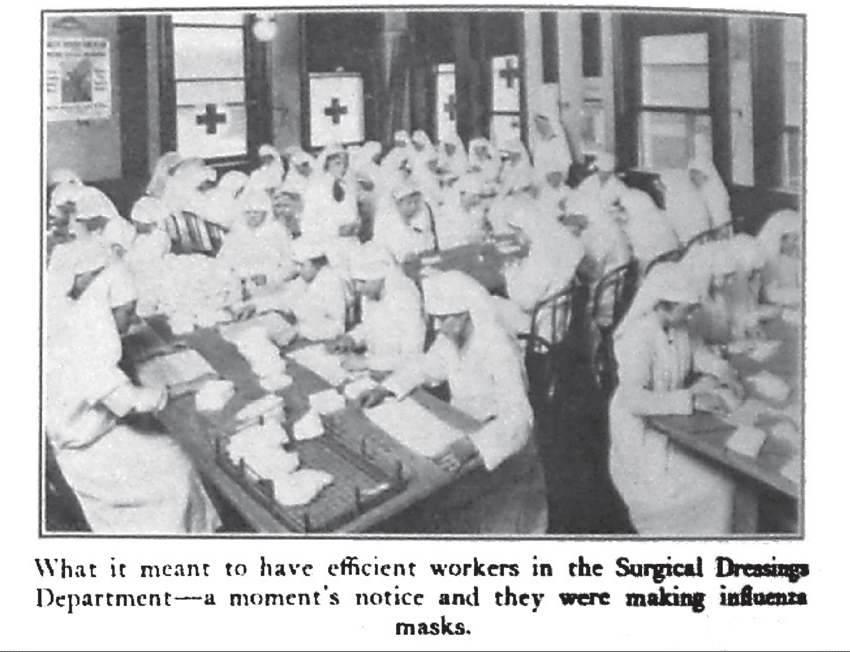 The civilian contributions to the war effort required a level of sacrifice and social cohesion unlike anything I have seen in my lifetime. It makes our current panic over temporary shortages of flour and toilet paper look even more ridiculous and overprivileged.
We are not at war (despite some political rhetoric to the contrary). However, we still need a massive nationwide effort to protect people until we have treatments or a vaccine against COVID-19. Healthcare workers, especially in large cities, are putting their lives at risk without the supplies and equipment we take for granted. Businesses are closed, millions are unemployed, and parents must manage without schools and daycare. The economic ramifications of this are hard to imagine.
Everyone has been asked to sacrifice, whether they are staying home or performing essential jobs. Every single family in America is personally impacted in some way. Yet unlike the massive mobilization of civilians during the world wars, most of us don't have much to do in the fight against COVID-19. Most of us just need to stay home and stay out of the way. We need to avoid getting sick, which means avoiding other people as much as possible. That doesn't have the same motivating ring to it as "Women of Britain: Come Into The Factories" or "Make Do And Mend," or the ubiquitous "We Can Do It!"
I think the real reason so many sewists, including me, have taken on the challenge of sewing masks and scrubs is because it is a concrete way to help. We know that homemade masks and scrubs are a poor substitute for properly manufactured medical equipment. Yet here we are. We were not prepared for this pandemic. We do not have enough proper gear to protect healthcare workers, let alone all the essential workers that are putting themselves at risk for us. Providing cloth masks to healthcare workers, or staff in nursing homes, or grocery delivery drivers is a way to say thank you, and to hopefully make their jobs a little safer.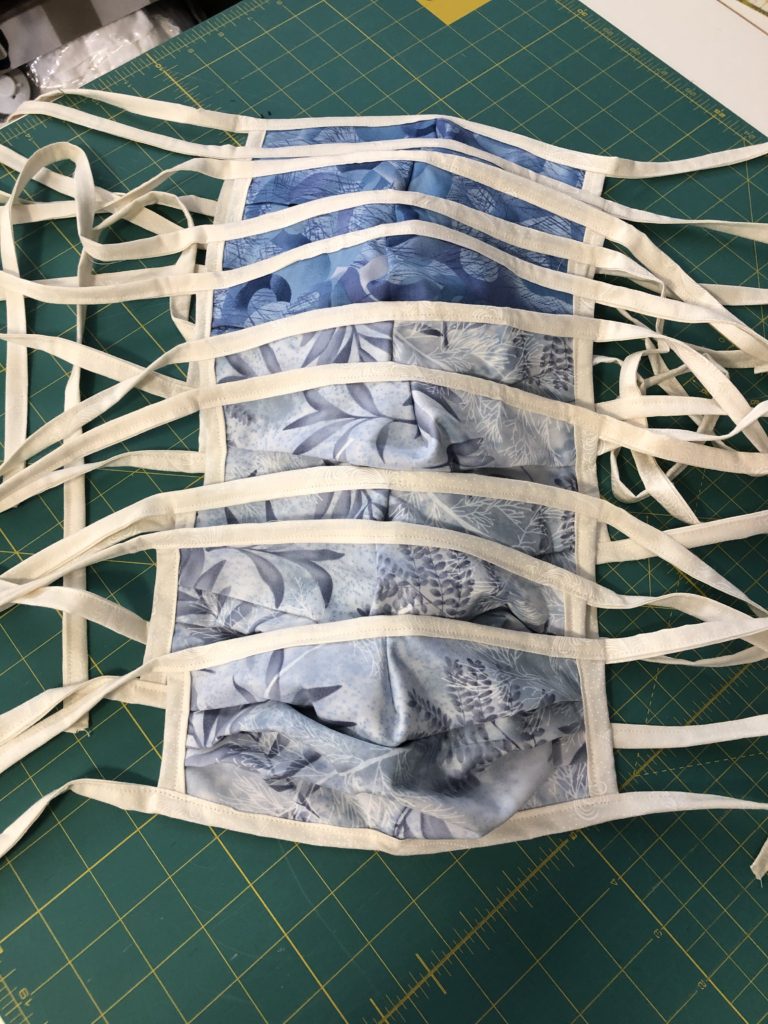 Yes, I've been sewing masks until my spine is screaming and my hands are aching. I've been spending my energy at the sewing machine, which means I have none left for other activities. But I think that pain and exhaustion are small sacrifices compared to what essential workers are contributing right now.
I don't want to get sick, and I don't want others to get sick. So in addition to practicing self-quarantine, I am making masks. It hurts. It is exhausting. And it's a sacrifice I can make.