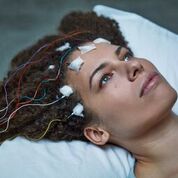 Unrest, Jen Brea's documentary about ME, will be shown on PBS stations around the United States on Monday night – January 8th. The film is already available worldwide, and is short-listed for an Oscar nomination (my review of the film is here).
This much success was truly pie-in-the-sky dreaming four years ago. The film's Kickstarter campaign had raised more than $200,000 in thirty days, four times Jen's original goal. But even so, the possibility that this film would be anything more than a limited release art house film was hard to imagine.
And yet . . . here we are. Jen and her team imagined it. Then they strapped on some ass-kicking boots and made it happen. No amount of applause or gratitude will ever be enough to convey the magnitude of Jen's achievement, and the potential this film has for people with ME.
And yet . . . we should make a little room in our minds and hearts for disappointment.
Perhaps you have asked your family and friends to watch the film on PBS and they won't.
Perhaps you sent a copy of the DVD to your primary care doctor, and she shrugs and says she didn't really like it.
Perhaps you've seen the film and gone to your doctor because you think you have ME, and your doctor blew you off.
As with all things in life, sometimes our unspoken expectations are not met and we struggle with the pain and anger we feel in our disappointment. Sometimes, we feel despair, or even get lost in that despair.
Apart from personal expectations, there are broader community expectations as well. CDC hosted a screening of Unrest and offered continuing education credits. Showings of the film around the country have engaged the public; showings in medical schools reach future doctors. The publicity, driven in particular by the PBS and Oscar stories, has raised the visibility of our disease to a level I have never seen before.
But this film – even if it actually wins an Oscar – this film will not be a magic turning point. This film cannot force a change in the training of healthcare professionals, or change the way disability benefits are determined. This film cannot provide the hundreds of millions of research dollars needed, recruit hundreds of researchers, or wipe away the stigma of this disease.
No film can do that.
Case in point: An Inconvenient Truth won an Oscar and brought climate change awareness to a new level. Yet climate change denial is going strong, including at the highest level of the US government. There is more public awareness of conservation, but that awareness has not translated into the actions and policies necessary to avert devastating climate change.
Awareness does not equal action, or even the political will to take action.
Case in point: in 2006, the CFIDS Association launched a multi-million dollar public awareness campaign paid for by CDC. I appeared in a story on NBC Nightly News. I gave more than a dozen interviews, most during a satellite media tour at the National Press Club. The Director of CDC and the Assistant Secretary of Health were among the speakers at a large press conference at the Press Club, and they said it was time to help us, and they said they would.
I cried that day. I cried because I thought this was our moment. I thought, After this we won't go back to how things were. Everything changes now.
About six years later, Jen Brea would get sick and begin her journey of Unrest. Despite the interviews, the press, the public promises, we were and still are the #MillionsMissing.
I learned, eventually, that there is no Watershed Moment. There are a series of moments along a path that is (hopefully) more progress than backsliding. Science takes time. Politics take more time.
Case in point: HIV/AIDS. You are probably familiar with ACT UP and TAG, and the work that helped shift the federal government, in big and small ways, to invest in HIV/AIDS research and services. But the Trump administration recently fired the remaining members of the Presidential Advisory Council on HIV/AIDS, and there is no director of the Office of National AIDS Policy. Further changes contemplated by the administration could have a huge negative effect on people with HIV/AIDS and those who identify as LGBTQ.
Unrest is a powerful tool for us. But it will be impossible to achieve any systemic change without a great deal more work. I hope millions of people watch Unrest on PBS Monday, but I suspect that only a few individuals will join us Tuesday in seeking change.
I think of Unrest as an ax or wedge. Jen has driven this ax into the wood, but now we have to be the hammer that drives it home and actually splits the log.
Tell your family and friends about Unrest. Urge them to watch, either Monday, January 8th or via another way. Root Jen on when the Oscar nominations are announced on January 23rd, and let's hope she gets her red carpet moment on March 4th.
Then pick up your hammer, and get back to work.