I am very fortunate in all of you, my readers. I was nominated this year for the Best In Show Blog Award from WEGO Health (for the third time!). Carol Head of Solve ME/CFS Initiative and Tom Kindlon were also nominated in other categories. And Tom was chosen as a finalist!!! Sadly, Tom did not win, but he is an incredible advocate and representative of us. (Go follow him on Twitter)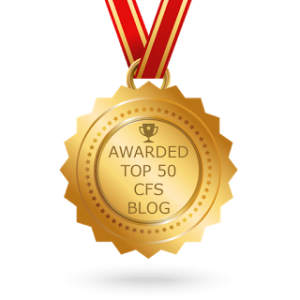 Now there's another "win" to report. Feedspot has assembled the "Top 50 CFS Blogs and Websites," and Occupy ME is number six! Feedspot is an RSS aggregator, so they certainly want to drive traffic to their site and sign up users. (Note: I receive no compensation for being on the list.) The ranking of websites will change on a weekly basis, and is calculated from a number of data points including social media presence.
So thank you for reading Occupy ME. My goal is to support your activism with insider information, analysis, and action. There is no shortage of stories to tell in ME activism, and I'll keep telling them.