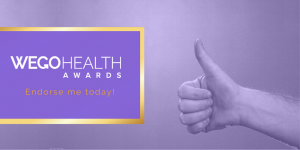 I am excited to announce that for the third time, Occupy ME has been nominated for the Best In Show Blog award in the WEGO Health Awards!
Now we enter the part of the process where you can influence the outcome!
WEGO Health is a mission-driven company connecting healthcare with the experience, skills, and insights of patient leaders. WEGO says that this is the world's largest network of patient leaders, working across almost all health conditions.
The WEGO Health Awards were created to celebrate and empower the patient voice. There are sixteen award categories, and these are the only awards across all conditions and platforms. The idea is to recognize the patient leaders who raise awareness, share information, and support their communities.
Giving voice to what it is like to live with ME is why I started my blog five years ago. Since then, we have witnessed an explosion in ME activism and storytelling. My goal is to support your activism with insider information, analysis, and action. I give you my opinion, and I have also hosted a number of guest posts so that you can hear from your fellow advocates. Occupy ME is about speaking truth to power, and empowering ourselves.
I am honored to be nominated for the third time! I was a nominee in 2015 and a finalist in 2014. Now I hope you will help endorse me for the Best In Show Blog award. The top three nominees with the most endorsements will become finalists, and two additional finalists will be selected by the judges. Here's how you can help:
Click here to go to my WEGO Health Awards profile and click endorse under my photo. Voting is open until September 1st, and the winners will be announced in mid-October.
So if you like what I do here at Occupy ME, or if you have ever used my writing in your own advocacy, please endorse me for the award. And while you are at it, endorse Tom Kindlon for Best in Show: Twitter. This is all about raising the profile of ME in health advocacy!