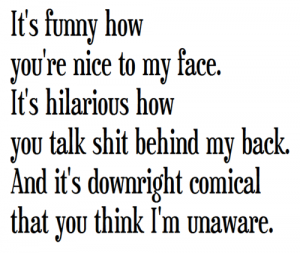 Government/advocate interactions frequently happen on a public stage, where everyone is rightly careful about what they say. Sometimes, though, we can get access to behind the scenes communication. In emails that the authors probably believed would remain private, we can learn what those people really think about something – and it is not a pretty picture.
I have a story like this for you today. Two short emails about ME advocates capture a dismissive, insulting attitude from one person, and a respectful attitude from another. Both of the emails in question were sent by individuals no longer working on ME/CFS, but in light of the Shorter fiasco it is clear that government attitudes are still problematic.
Back in March 2015, I discovered that the NIH Office of Disease Prevention had mishandled public comment on the P2P ME/CFS report. Many comments submitted by advocates and organizations had not been sent to the Panel members. Among the many missing comments was a lengthy document from the CFS Advisory Committee. That document was prepared as part of CFSAC's official function, and at government expense (to say nothing of the huge amount of time invested by the work group members).
But my discovery meant that this 20 page report (and the comments of dozens of others) was never sent to the Panel by the NIH Office of Disease Prevention. NIH admitted the error, and was forced to delay publication of the final version of the P2P report. Once the report was finally published, I remained very curious about how all of this was handled internally. In October 2015, I filed a FOIA request for communications among the people involved in the P2P meeting. Almost a year later, I received a response. And buried within all the documents were two emails about me.
Here's what went down: when I discovered NIH's mishandling of public comments, I emailed the authors of the CFSAC document to notify them of the problem and promised to keep them informed. I thought it was appropriate to copy then-Designated Federal Officer Barbara James.
It turns out that Ms. James forwarded my email to Dr. Susan Maier, who was then the ex officio representative of NIH on CFSAC. Ms. James added personal commentary, saying:
FYI. Don't they have anything better to do than file FACA and FOIA requests? (emphasis added)
That one sentence embodies everything that is wrong with the way some government employees view ME advocates. It is dismissive and insulting. It demeans legitimate advocacy efforts. It ignores the fact that one of the few ways we can hold the government accountable is through investigating and exposing government failures. This is also one of the baldest examples of ableism that I have seen in a government email.
In addition to insulting me, Ms. James failed to acknowledge that my FOIA request had uncovered that CFSAC's comments had been lost. My discovery helped her do her job, because it was her responsibility as DFO to submit those comments to NIH. But instead, Ms. James could only complain that I had nothing better to do.
Let me be clear: The only reason I'm doing any advocacy in the first place is because my government has completely and utterly failed to adequately address the ME crisis. I would much rather be working or raising kids or doing the thousands of other things I am unlikely to ever be able to do. Advocacy work is important, and believe me, I don't do it for entertainment or lack of other things I want to do. Like many others, I do advocacy at great personal cost and sacrifice.
Ms. James's comment is an example of a negative mindset about people with ME: we are a nuisance; we complain too much; we're crazy; we're demanding; we have small lives with nothing better to do.
That is an attitude we do not need. It is an attitude that interferes with the government's public health mission and that impedes our ability to succeed in advocacy. ME advocates can point to decades of dismissal and disdain by government employees. We can unroll a long laundry list of examples that were not helpful or constructive, and that sometimes cross the line into outright prejudice and stereotypes.
It's not the end of the story, though, because Dr. Maier replied to Ms. James. Dr. Maier did not always endear herself to the ME community, but this email was completely appropriate and accurate:
Thanks Barbara. They are concerned that their voices are not being heard. I understand. (emphasis added)
THIS is the attitude we need. Dr. Maier simply acknowledged that we have legitimate grounds to fear that our voices are not being heard. That's it. She didn't go any further than extending a little human decency and empathy, but it makes a difference to me to know that she did so.
Emails and attitudes like Ms. James's are the norm for people with ME. We get that kind of thing from our healthcare providers, our social circles, and our government. Ms. James retired from HHS, but attitudes like this remain.
Dr. Maier is also no longer working with CFSAC, but the attitude in her email is exactly what we need from government employees. We need to be heard as contributors to solving the ME crisis. Our input is valuable, and we are worthy of respect. Even when we use adversarial tactics, it's usually not personal. We're performing a necessary function in the system, just as they are.
These conflicting attitudes remain relevant today. The recent invitation of Dr. Shorter to NIH was not only a major blunder, but also exposed dangerous thinking among some at NIH. The replies from Dr. Koroshetz and the Trans-NIH ME/CFS Working Group were respectful but missed part of the reasoning for our protests. Dr. Shorter's talk still went ahead as scheduled.
But on the other hand, the teleconferences with the community have given us closer contact with NIH officials than I can recall us ever having had before. Several NIH scientists attended the IACFS/ME meeting and gave presentations. Dr. Vicky Whittemore asked CFSAC to make recommendations on how agencies can better engage the ME/CFS community in setting priorities for research.* I have encountered several NIH employees who have been both respectful and incredibly responsive.
Government agencies may appear monolithic, but they are not. The offensive, callous attitude embodied in Ms. James's email about me (as well as NIH's invitation to Dr. Shorter) is unwelcome and unproductive. Given the government's history on ME, it is natural to expect all government employees to treat us badly.
But governments are made up of people, and people are not identical. Dr. Maier's email to Ms. James is one example of empathy and understanding. Long-time advocates will recall Dr. Wanda Jones, who was respected and appreciated by the ME community. Dr. Whittemore gives every indication of following in her footsteps.
The emails exchanged by Ms. James and Dr. Maier use a total of four sentences, but reveal much about the kinds of attitudes we do and do not need from government employees. We need less disparagement and less ableism. We need more empathy and more respect.
People with ME will be best served when everyone comes together as equals to address this crisis. Bad attitudes will always hinder progress.
*Full disclosure: I am serving on the CFSAC's working group on this topic.