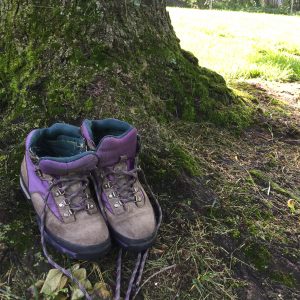 Today is another, larger #MillionsMissing protest, and I am missing it. I miss a lot of things.
One of the best things I ever did in my life was to drive cross country, camping in national parks. It changed my relationship with nature and exercise. I realized that I could be athletic, and enjoy it. My heart opened further with every gorgeous vista and soothing campground. I felt whole and complete.
I never did anything like that ever again. Those purple hiking boots in the photo were the ones I bought for that trip, and they are still not worn out more than twenty years later. ME arrived and kidnapped me from my life.
Good friends of ours recently made their own cross country trip. With every picture they posted from the road, I felt my sense of loss renewed. I belong out there on the road, and on the trail. But this is probably out of my reach, permanently.
For many years, I didn't think about camping. I missed it too much. After twenty-two years of ME, I doubt I will ever camp again. That loss seems too big to handle.
How could a disease that ripped me from almost everything I loved in my life receive so little attention? How could I be sitting here twenty-two years later, without ever having had a treatment to try that was not off-label or hypothetical?
The lack of medical progress, which has sentenced me and millions of others to a life that is less than, is a direct result of our government's failure to invest in ME/CFS research. The research dollars must flow. That is our only hope of escape from the life sentence that is this disease.
I am one of the Millions Missing. Don't let me disappear.