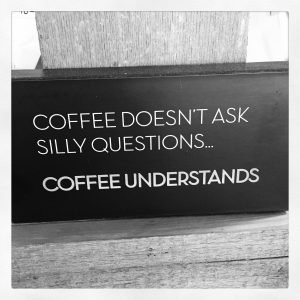 I have a deep emotional bond with coffee. After I regained the ability to drink it without it tearing up my gut, coffee and I took our relationship to a new level. I switched to a Chemex, and found locally roasted beans. I developed a morning ritual around the brewing of coffee, and it became an essential prelude to each day. I even took the Chemex with me on a family vacation. But as with many good things in life, I didn't know how much I needed it until it was gone.
Last year, I developed pelvic pain. I won't bore you with the many rounds of appointments and theories spawned by the advent of this pain, but the working theory right now is interstitial cystitis. I know many ME/CFS patients who have it, so I wasn't shocked.
That is, I wasn't shocked until the doctor told me what the first-line treatment was: eliminate citrus, tomatoes, caffeine and spicy foods for three weeks to establish if they are pain triggers. Hold up. Caffeine? I don't care about the rest of it, but no caffeine in any form for three weeks? Meaning no coffee, not even decaf? I was not happy at the prospect, but I sure did not like the amount of pain I was in, so I agreed to do it. I chronicled my distress on Twitter.
Day 3 without caffeine. I'm going to crack soon. Very soon.

— Jennie Spotila (@knittahknits) April 4, 2016
Day 7 without caffeine. I may soon have to resort to cannibalism.

— Jennie Spotila (@knittahknits) April 8, 2016
You know what would be great on a snowy April afternoon like this? A BIG CUP OF COFFEE THAT'S WHAT. *sobs*

— Jennie Spotila (@knittahknits) April 9, 2016
Day 13 without caffeine. I stare into my empty cup. I stare into the abyss.

— Jennie Spotila (@knittahknits) April 14, 2016
Day 17 without caffeine. My brain has crumbled to ash.

— Jennie Spotila (@knittahknits) April 18, 2016
Day 19 without caffeine: The desire to kill people is fading, but mostly because I'm too slee…*yawn*

— Jennie Spotila (@knittahknits) April 20, 2016
Day 22 without caffeine: I just took the dog out in the rain, and I really need a cup coffee hey guess what. *shakes fist at sky"

— Jennie Spotila (@knittahknits) April 23, 2016
I was trying to be funny, but it was actually very difficult. I didn't get caffeine withdrawal headaches or anything like that. But my cognitive function fell through the floor, as if someone had pulled the lever on a concealed trapdoor. I took two hour naps every day and when I was awake, I could barely do anything. I was miserable. My husband even begged me to go back on caffeine. Meanwhile, the pelvic pain improved at first and then reverted to its previous up and down pattern.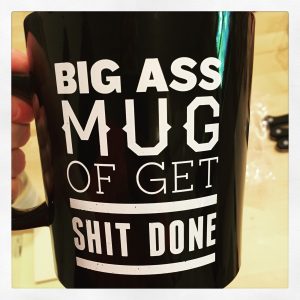 Determined to complete the experiment, I reintroduced caffeine to see if the pain increased, which would suggest there was at least some benefit to skipping caffeine. Nope. The pain maintained its pattern, despite my consumption of copious amounts of coffee.
But now I had a new problem. When my cognitive and physical function tanked after I gave up caffeine, one of my doctors prescribed a stimulant medication. Now when I drink the same amount of coffee as before, I feel like I have overindulged in caffeine. The stimulant medication plus a large strong coffee is too much, and I feel jittery and uncomfortable.
All this goes to show that tinkering with routine has to be done carefully. I had no idea how much I had relied on caffeine to function. One doctor said drop it, another doctor offered a drug to compensate, and then reintroducing caffeine made me feel lousy.
After more than two months of experimentation, I think I've found the sweet spot. I take the stimulant medication, and I can have a smaller, weaker coffee but still feel ok. My brain is back online, and I can enjoy my coffee ritual.
And the pain that started all this in the first place? Yep, still there in basically the same pattern. We've moved on to another first-line treatment – physical therapy – but that doesn't seem to be helping much either.
Life with ME/CFS is an ongoing series of experiments, of tweaking one thing and then needing to tweak more things in response. I don't recommend attempting it without caffeine.