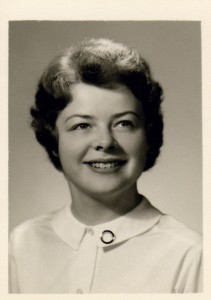 When my mother died, I could not sculpt words around my grief. Even several months later, I still could not express how grief felt to me.
Now, a year later, I find I have too many words to shape and press around the edges of my grief. I can't choose the right words that will show you the boundaries of my emotions as a picture. I try to paint with words, but I cannot choose the right ones for this task. There are too many, and the space of grief is too large.
So instead, I offer this excerpt from one of my favorite books, To Bless The Space Between Us by John O'Donohue. His poem, For Grief, expresses my feelings better than I can myself:
When you lose someone you love,
Your life becomes strange.
The ground beneath you gets fragile,
Your thoughts make your eyes unsure;
And some dead echo drags your voice down
Where words have no confidence.

Your heart has grown heavy with loss;
And though this loss has wounded others too,
No one knows what has been taken from you
When the silence of absence deepens.

. . .

It becomes hard to trust yourself.
All you can depend on now is that
Sorrow will remain faithful to itself.
More than you, it knows its way
And will find the right time
To pull and pull the rope of grief
Until that coiled hill of tears
Has reduced to its last drop.

Gradually, you will learn acquaintance
With the invisible form of your departed;
And when the work of grief is done,
The wound of loss will heal
And you will have learned
To wean your eyes
From that gap in the air
And be able to enter the hearth
In your soul where your loved one
Has awaited your return
All the time.