October 6, 2015 was my 21st "sickaversary." I know the date because the onset of ME/CFS in my case was so sudden and dramatic.
Not a single doctor told me that I could be sick for years. Not a single doctor, as the years passed, said this might be permanent. Not until I had been sick for five years. Then, and only then, was I told that where I was at five years was likely to be where I would stay. The phrase "if you are lucky" went unspoken.
But I never believed this could happen. I never imagined being in my forties, still unable to work or to live independently. In 1994, I never would have said or imagined or even feared that I could still be sick twenty-one years later.
In the past I have marked my sickaversaries with tears, testimony to the CFS Advisory Committee, and prayer. And hitting 21 years in 2015, which has been the absolute hardest year of my life, has basically sucked in almost every way. So for this year's sickaversary?
I MADE A CAKE.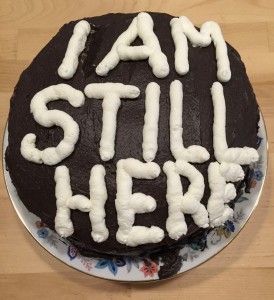 My mother died in January. She was one of my best friends. But I am still here.
ME/CFS took my career, my independence, my dreams. But I am still here.
My husband had a stroke that could have killed him, and he is still out of work. But I am still here.
Two people I love had surgery this year. Others lost loved ones to cancer, disease, or old age. But I am still here.
I have spent the last twenty-one years suffering from a disease that almost no one cares about, that has no treatment, that leaves patients to suffer and die early deaths in isolation from a world that has forgotten about them and moved on. But I am still here.
In 2015, I have cried more tears than in the rest of my life combined. There have been days when I knew I could not take any more bad news or suffering, and then I did. There have been days when I breathed more out of habit than desire. But I am still here.
I have rested and found comfort in the arms of my loved ones and my faith. I have found strength deep in the marrow of my bones when I thought I was sucked dry of life and hope and endurance. I have continued. And I am still here.
So this 21st anniversary of the day my life changed irrevocably forever in ways I never would have chosen or foreseen? This day was not a sad day.
It was a fucking victory lap.