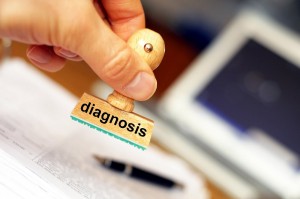 One of the post-IOM controversies consuming advocates at the moment is the concern that SEID criteria are non-specific and will include people who do not have our disease. The failure to list exclusionary conditions, including psychological disorders, has drawn criticism from some advocates and at least one expert clinician. This is a legitimate concern because if the SEID criteria capture people who do not actually have it, then we are simply perpetuating the problems with the Oxford and Fukuda definitions, both of which have been demonstrated to include people who have fatigue that is not caused by our distinct disease. But will the SEID criteria open the floodgates to people who have only depression or anxiety or other fatiguing illnesses? The answer is no, if the SEID criteria are correctly applied.
Correct diagnosis is critical for clinical care and research. Overly broad groups of subjects can produce misleading research results, and incorrect diagnoses harm patients. For years, advocates and experts alike have pointed to post-exertional malaise as the symptom that distinguishes our disease from other fatiguing illnesses. PEM was a focus of the Voice of the Patient report from FDA, and is also one of the core symptoms identified by Dr. Leonard Jason's research as essential for diagnosis. The IOM agreed, and made PEM mandatory for diagnosis with SEID.
The IOM report described PEM as:
worsening of a patient's symptoms and function after exposure to physical or cognitive stressors that were normally tolerated before disease onset. Subjective reports of PEM and prolonged recovery are supported by objective evidence, including failure to normally reproduce exercise test results (2-day CPET) and impaired cognitive function. These objective indices track strongly with the presence, severity, and duration of PEM. (p. 86)
The IOM also found PEM to be a characteristic symptom of ME/CFS:
The existence of PEM can help physicians confirm a diagnosis of ME/CFS earlier rather than only after extensive exclusion of other conditions. Several studies have found that PEM best distinguishes ME/CFS from idiopathic chronic fatigue and may help distinguish it from other fatiguing conditions with a lower frequency of PEM. (p. 85-86)
The IOM report cites several papers finding PEM in major depressive disorder and multiple sclerosis, but interpreted them with caution because the prevalence of PEM depends on how it is defined and assessed. If these papers did not define PEM as the exacerbation of multiple symptoms after physical or cognitive exertion, then the findings would not be applicable given how IOM defined PEM.
Unlike the Canadian and International Consensus Criteria, the IOM lists no exclusionary conditions. Many people seem to have interpreted this to automatically mean the criteria are too broad. But the IOM explained that people can have SEID and other diseases, whether it is obesity, hypothyroidism, or cancer. Under Fukuda, any of those diseases would preclude diagnosis with CFS, but comorbidities are a fact of life.
For example, I have obstructive sleep apnea that arose after my diagnosis under Fukuda. Technically, this should disqualify me from diagnosis under those criteria. However, my sleep apnea is perfectly controlled by use of a CPAP machine. The data from the machine show that I do not have sleep apnea when I am using the machine (which I do, every single night). Yet I am still sick. So why should having sleep apnea, especially if it is well-controlled, exclude me from diagnosis? Certainly, the sleep apnea should be taken into account if I participate in a research study, and could possibly disqualify me from some studies. But it should not exclude me from diagnosis with the disease.
The same is true of other comorbidities. Why should someone with hypothyroidism which is being adequately treated be denied diagnosis with SEID if they have PEM, sleep problems and cognitive dysfunction? If someone has PEM, severe fatigue that prevents them from working, unrefreshing sleep and orthostatic intolerance, what difference does it make if they also have depression? Doesn't that person deserve treatment for depression as well as management of SEID?
In my opinion, comorbidities are not the concern. The legitimate concern is whether SEID would, like Oxford and Fukuda, be applied to patients who have only depression or only anxiety (or only other fatiguing illnesses). Research has shown that Oxford and Fukuda both erroneously include people with "just" depression (and I do not mean to minimize the suffering of depression) and not the distinct disease described by ME or SEID criteria. This would be a fatal flaw of SEID criteria, because we know that studies like PACE have included high numbers of people with fatigue but not our disease, and this could account for the small signal of CBT and GET effectiveness reported in PACE (notwithstanding all the other legitimate criticisms of how PACE was conducted and analyzed).
But unlike Oxford and Fukuda, SEID requires the hallmark characteristic of PEM. If post-exertional malaise is unique to our illness, then correctly applied SEID criteria should not misdiagnosis people with other fatiguing illnesses as having SEID. Why? Because if a patient does not have PEM, they would not be diagnosed with SEID. And if a person has PEM and the other core SEID symptoms, then they have our disease regardless of what other conditions they may have. Therefore, if a person has only clinical depression or only hypothyroidism or only multiple sclerosis, that person does not qualify for SEID because he/she would not have PEM and the other core symptoms.
The IOM committee is staking the position that PEM is so distinct that no differential diagnosis is required, because differential diagnoses are needed only when multiple diseases present with similar symptoms. Once a clinician has established that a patient not only has severe debilitating fatigue, but also has PEM, unrefreshing sleep, and cognitive dysfunction and/or orthostatic intolerance, there is no need to exclude other conditions. This is a distinct symptom presentation, and will not – if correctly applied – result in people who do not have the disease being included in the patient population. Remember that Dr. Jason's research identified PEM, unrefreshing sleep and cognitive dysfunction as the core symptoms of the disease, especially when frequency and severity cutoffs are applied (as IOM also recommended).
The real issue, in my mind, is whether these criteria will be correctly applied. Chapter 7 of the IOM report and the materials for clinicians both include questions and tests to determine if a person has PEM. However, given the misinformation already extant about our disease, and the outright prejudice among some in the medical profession, we cannot take it as a given that healthcare professionals will suddenly be able to recognize PEM correctly. That is why the educational recommendations of the IOM report are so critical, and why I believe we should be vigilant about whatever materials HHS ends up creating as part of an education campaign. It is unquestionable that many healthcare professionals need remedial education, and CDC's current education materials are grossly inadequate. But this is a different problem from the fear that the SEID criteria themselves are not sufficiently specific to exclude those who do not have the disease.