I've been spending a lot of time in bed, recently. This is unusual for me. Usually, I'm ON the bed but not IN the bed. I see a really big distinction.
On a normal day, I'm out of bed in the morning and on the bed in the afternoon. If I'm on the bed, it is usually because I need to have my legs up and my dog close by. The couch is just not as restful and comfortable as my bed. I might be reading or knitting or just listening to music, but being on the bed doesn't mean I'm having a bad or low-functioning day. I might even nap with a blanket thrown over my legs, but I'm able to get back out of bed at dinner time. And after dinner, I am almost always on the bed – again for the physical comfort factor.
Being IN the bed is completely different. In bed means I am under the covers, and almost always lying down. If I am in the bed during the day, I'm crashing. It means I'm in pain, I'm unable to think or concentrate. Actually, it looks like this. I'm not reading or knitting. I might be looking at the tv, but it's unlikely that I'm actually watching it with any concentration. In bed + day time = bad news.
This in vs. out distinction never struck me as remarkable until a few weeks ago. More often than not, I've been in bed, under the covers and done for the day, by 3:30 pm. This was happening even before my post-IOM meeting crash. I was just done. There were things I needed and wanted to do, but I couldn't  – could not – do anything except collapse in bed.
Part of the issue is cognitive activity. There are advocacy issues sucking up huge amounts of my energy (including IOM and P2P) and causing increased stress. And the other issue has actually been my desire to test treatment benefit. I've been getting weekly saline infusions, and they make me feel better, so I've been pushing a bit to see if it is improving my functionality (jury is still out on that one).
There's a prevailing misconception among people who are not familiar with ME/CFS (and even some who are!) that patients stay in bed because they want to, or that we don't push ourselves hard enough. I can only speak for myself, but this is not the case for me. As much as possible, I resist being in or on the bed. I resist napping. I push my body and brain to the limit every day. Not a single day goes by that I end it saying, "Gosh I could have done more today." I might say I wanted to do more or I should have done more. But never once do I think I did less than I could have done. I am always always ALWAYS disappointed by what I didn't do. I never choose rest or leisure over productivity – and probably to my detriment.
I tend to be pretty hard on myself, and I've been trying to force myself to stay out of bed. Or at least to just be on it and distract myself a bit. But it was no good. Each day I caved and got in the bed. Suffering doesn't make much sense, just to be able to tell myself I wasn't in bed. This is not a competition. If I feel that bad, I should take care of myself and not increase my suffering out of some misguided stoicism.
So when I felt it coming on again yesterday afternoon? I trusted that feeling, and I got IN the bed. Tomorrow is another day, and hopefully I'll get back out of bed again. There are many ME/CFS patients who are so ill, getting out of bed is more of a dream than a plan. I'm lucky that it's still my plan.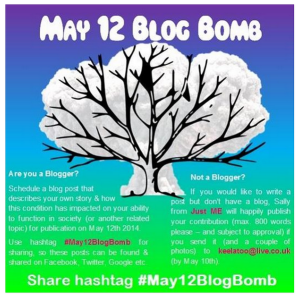 Read other May 12 Blog Bomb entries here.