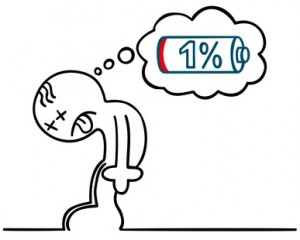 Last week, my body gave me the finger. I can't even say I didn't deserve it. After more than 19 years, I still don't always listen to my body and this makes her very, very angry with me.
I've previously talked about how rotten 2013 was for me personal life-wise. And about how advocacy work around the IOM contract has been overwhelming. But I am a stubborn woman, especially when it comes to learning from my mistakes. Already depleted, I threw myself into the research and analysis of the IOM Panel in December. I spent the month of January preparing my presentation to the IOM (written and video available). And there was that little thing called "the holidays" smack dab in the middle of it.
I thought I had everything under control. I pared January down to the essentials – only what absolutely positively HAD to be done in order to prevent physical, financial or emotional harm to me and my family. And coming to the end of the month, I thought I nailed it. My presentation was ready and basically memorized. I submitted my written version with references on time. And the absolutely-positively-must-be-done-in-January list was mostly accomplished. I was determined to attend the meeting and give my presentation in person.
Then I got sick(er). Not just a crash. I mean SICK. There's some difference of opinion in the house about whether it was a bad cold on top of a crash (husband's theory) or influenza partially mitigated by my flu shot (my theory), but it doesn't really matter. I was bedridden with a fever, etc etc for five days, and the IOM meeting was on day three.
So despite all my preparation and organization and determination, I could not give the presentation in person. My husband later said that he thought the trip to DC would have ended in an ambulance ride. He says I haven't been this sick since my two day CPET in April 2012.
I gave my IOM presentation from bed, feverish and not really sure if I was saying it right. It seems like I got my point across. And I've certainly dealt with the disappointment of missing out on something I really wanted to do before. Endlessly. For more than 19 years. The reality of this disease kept many people from attending the meeting (or even watching it). The reality of this disease exacted a high price from the patients who were able to attend.
But this felt a bit different to me. I felt like I was being punished by my body. That she reached the breaking point with the I'll-just-push-a-little-harder routine, the endless repetition of I'll-just-keep-going-until-the-end-of-the-month /project/year/controversy/crisis. And of course, my body had reached the breaking point and I was the one responsible.
Every single patient-advocate I know does this. I started a list, and realized I couldn't even name you all here because every one of us does this. Sometimes, a patient has to drop out of advocacy for awhile (or forever) to try and recover. Most of us keep going until we just can't. As soon as we can get back up, we are at it again. ME/CFS voices must be heard, and that means that those who are able and willing must speak. And pay the price for as long as we can.
I know there's a balance point, a magical formula for parsing out work and rest. It's just that I don't like where that balance point is. There is too much advocacy work to be done, and nowhere near enough of us to do it. So many of you are putting yourselves at risk to make things better for all ME/CFS patients. I have to help.
My body gave me the finger. I deserved it. It remains to be seen if I actually learn from it this time around.