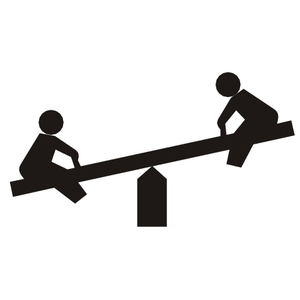 There is a good deal more to discuss about the Institute of Medicine ME/CFS case definition panelists beyond their individual backgrounds (see the known and unknown panelists' profiles). Our team has been grappling with those issues, not always achieving consensus. We hold a spectrum of opinions, and it forms an important context for providing feedback to IOM on the panel.
The Moral Question
The reasons for the ME/CFS community's opposition to the IOM study have been extensively explored over the last three months. Part of the struggle has been over what to do about it. Some advocates believe we should contribute to the process in a constructive way by providing feedback on the panelists and input on the substantive issues. Others believe that participation in the process is not only pointless, but will actually legitimize an illegitimate process. They advocate unconditional and complete resistance to the IOM study, and state that no advocate should provide feedback on the panel. There are other views as well, and everyone is entitled to act on their views as they see fit.
Our team has mixed views on this question of involvement in the process. Several members lead organizations that have publicly stated their support for participation. Others struggled with whether to be involved in our research project, let alone in providing feedback to IOM. Obviously, given the intense investment of time and energy we have made, the ten of us believe there is value in examining the panel. Information is powerful, and one must first have that information in order to make effective use of it.
Conflicts of Interest
As I explored in a previous blog post, the IOM takes issues of conflict of interest (COI) and bias very seriously. In fact, a large portion of the panel's first meeting will be spent discussing potential conflicts. Our team struggled with how to define COI and apply that definition to this panel.
The IOM defines a COI as "any financial or other interest . . . [that] (1) could significantly impair the individual's objectivity or (2) could create an unfair competitive advantage for any person or organization." In researching the panelists' background, we looked for clear financial interests that could affect a person's judgment on the ME/CFS case definition. For example, if a panelist had received payments from a disability insurance company, we believed that would be a clear conflict. We didn't find anything like that.
Our team also discussed other financial interests and the potential effect on panelists. For example, many panelists receive government funding (chiefly NIH and Department of Defense), and we also found that some have received significant research or consulting fees from pharmaceutical companies. Does this funding represent a conflict of interest? Some team members believe that it does, in that a panelist would be more likely to do what the government wants because he/she feared losing future funding. The IOM policy specifically limits COI to current – not future – financial interests, but that did not reassure these team members.
The counter-argument is that if receiving NIH funding is a conflict of interest then almost all of the panelists – including the ME/CFS experts – would be disqualified. Dr. Klimas and Dr. Natelson receive significant NIH and/or DoD funding for their work. One team member felt that in their cases, the interests of their patients would outweigh the government's potential influence through funding, but others were concerned about creating these sorts of exemptions.
How far does this go? If having an ME/CFS clinical practice is such a strong influence, what of panelists like Dr. Bateman or Dr. Lerner? They do not receive NIH funding as principal investigators (although they may be co-investigators), but do they have a conflict of interest because they earn a living from ME/CFS patients? And what about the influence of CDC? Dr. Bateman, Dr. Klimas and Dr. Natelson are all participating in the CDC's multisite study. Dr. Bateman, Dr. Natelson and Dr. Rowe have recently appeared in the CDC's physician education programs. Furthermore, there are two panelists who will be personally and directly affected by the panel's recommendations. Dr. Chu is a patient herself and Dr. Davis's son is very ill. Any new case definition will have a direct impact on their lives. Does that mean they have a conflict of interest?
The challenge in assessing conflict of interest is to apply the definition evenly in all cases. If NIH funding is a COI, then everyone with such funding is out. If treating ME/CFS patients is a powerful influence on a panelist, then all those doctors are out. After much discussion, the majority of the team believed that things like NIH funding and clinical practice were not conflicts of interest. In addition, the IOM policy specifically allows panelists with COI to serve if they have unique and necessary qualifications. We believe that the points of view of patients are critical to this panel's work, and therefore patient or family status should not be a bar to service.
Committee Balance
Selecting the IOM panel is not just a matter of individual expertise, but also the overall balance of viewpoints. Do the panelists' views balance each other out, with no particular view dominating? Will they collectively be able to discuss and consider the full spectrum of issues?
The IOM Statement of Work listed the desired committee expertise. How well does this panel address that?
pathophysiology, spectrum of disease, and clinical care of ME/CFS (Bateman, Chu, Keller, Klimas, Lerner, Natelson, Rowe)
neurology (Natelson, and potentially Shelanski)
immunology (Diamond, Klimas, Natelson)
pain (Cleeland)
rheumatology (Diamond)
infectious disease (Lerner)
cardiology (no cardiologists, although Keller, Lerner, and Rowe have relevant experience)
endocrinology (none)
primary care, nursing, and other healthcare fields (Ganiats, Bateman, Alegria)
health education (Bateman, Ganiats, Klimas, Rowe)
and the patient/family perspective (Bateman, Chu, Davis, Lerner)
One member has experience in systematic reviews (Mulrow), and another has extensive experience in outcomes measures (Cleeland). Two or three may potentially take a behavioral view of ME/CFS (Alegria, Ganiats and Mulrow), but at least six can speak directly to pathophysiology (Bateman, Chu, Klimas, Lerner, Natelson and Rowe). Six panelists have co-authored previous ME/CFS definitions and/or adopted a public position in support of CCC (Bateman, Chu, Keller, Klimas, Lerner, and Natelson), and five currently treat ME/CFS patients (Bateman, Klimas, Lerner, Natelson and Rowe). At least two panelists appear to have no prior knowledge of ME/CFS (Clayton and Shelanski).
Some team members do not want any psychologists on the panel regardless of their backgrounds, and a few felt that the panel should be made up completely of ME/CFS experts. Others felt that bringing in non-ME/CFS experts has advantages. All of us are concerned about the views of Alegria, Ganiats, and Mulrow. The absence of a cardiologist and endocrinologist are unfortunate, but hopefully at least part of that angle can be covered by the ME/CFS experts.
Overall, the committee membership seems fairly balanced. There is diversity of professional experience and of ME/CFS specific experience. While all of us would have liked to have seen more ME/CFS specialists, it is important to note that we have confidence that the specialists on the panel are fully capable of conveying their points of view. We don't expect that Drs. Bateman, Chu, Keller, Klimas, Lerner, Natelson or Rowe are likely to be bullied; indeed, many of us have personally witnessed their willingness to speak their minds.
Next Steps
The IOM is accepting feedback on the provisional panel until December 23rd. Many, if not all ten of us, hope to provide such feedback. We are looking more carefully into several of the panelists, and will share our assessment in a future post.
Acknowledgements: This post was a group effort, and would not have been possible without the assistance and participation of Lori Chapo-Kroger, Claudia Goodell, Chris Heppner, Denise Lopez-Majano, Mike Munoz, Darlene Prestwich, Tamara Staples, WillowJ, and one advocate who wished to remain anonymous.