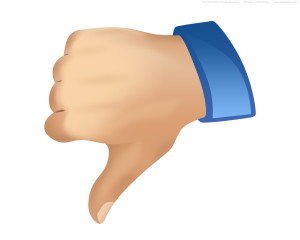 The December 2013 CFS Advisory Committee meeting was controversial before it began, and honestly things only went downhill from there. I don't think I have it in me to list everything that was wrong with the meeting, and I'm pretty sure you don't want to read that whole list either. Let's just focus on the lowlights: the tech, the wreck, and the waste.
The Tech
Let's just set aside the challenges of webinar format. Let's set aside Dr. Marshall's valiant effort to make this meeting productive. Let's even assume that the tech folks knew what they were doing. There is more than enough left to criticize.
There was no audio via the computer. You could see the slides, but that's it. To hear the meeting, you had to call in. Of course, that was not clear in the meeting instructions, and so the public spent 15-20 minutes just trying to figure out what we needed to do to hear anything. There is no excuse for this. I've attended at least a dozen meetings using Adobe Connect. I can always get audio through my computer. I'm not aware of any technology limitation that prevented them from providing audio through the computer yesterday. Many patients rely on their cell phones and did not have five hours of minutes to burn to listen to the meeting. Others are not capable of holding a phone for more than a few minutes. And some are limited to dial-up, which means they can use the internet or the phone – not both. This webinar was inaccessible for too many people.
Next slide, please. Jeannette Burmeister said on Facebook:  Someone on Facebook (not sure if she wants her name associated with this publicly) "The words of the day: Can I have the next slide, please? Next slide? Next slide? Hello? Can anybody hear me? Can I have the next slide?" During the research working group presentation, there were several minutes lost to a back and forth about advancing the slides during which Dr. Lee pointed out that she could advance the slides but that no one else was seeing it. The episode culminated in something along the lines of "Take your hands off your mouse and let Paul advance the slides." Yes, there are always technical glitches and problems with slides – all the time. And if this was the only glitch in the meeting, we would not even be commenting on it. But here's my question: Why did they not rehearse who would control the slides (and how) in advance!!!???!!!!!!
So much dead air. The high-fluster episode of the day was public comment. Dr. Lee was not able to conference telephone commenters in. This resulted in 3 to 5 minutes of dead air prior to every comment. Dr Marshall tried to manage this – asking for patience, promising to get everyone in despite the loss of time, calling the break early to give them a chance to fix it. When my turn came, I was interrupted twice because my comments were not being broadcast, told to hang up twice so they could attempt to reconnect me, etc etc etc. Again, and I'm sorry for shouting, BUT WHY WAS THIS NOT REHEARSED IN ADVANCE?
Check Yourself, Before You Wreck Yourself
Thanks to Angel Mac and Lisa Petrison, we have a partial transcript of Dr. Lee's comments at the end of the discussion on the Institute of Medicine study:
I've seen so much vitriol and personal attacks in email and blogs around the IOM study. I don't see how this will be constructive going forward, given the opportunity before the ME patients and families.

Everyone I know working to make the clinical diagnostic criteria a reality has good intentions and wants to make things better for ME/CFS patients. Implying that IOM staff or committee members don't have good intentions will not be helpful, and it could backfire.I had patient advocates apologize to me in private – when this happens in a public meeting or blog or email – (lost audio)
From my own notes, I can add that Dr. Lee went on to say that when we see people making these sorts of comments, we should call them out on it. Update to add: Claudia Goodell captured the quote as "Don't make vitriolic statements that assume IOM panelists have bad intentions in a public forum. Those who do will be called out."
Do you realize what happened here? A federal employee, acting in her official capacity as Designated Federal Officer of an advisory committee, just told members of the public how to exercise (or not) their First Amendment rights on a subject she personally works on in her official capacity. I was shocked. Perhaps I shouldn't be, anymore, because every time I think we've seen rock bottom we sink further down.
Here's the thing: ME/CFS advocates are like a family. The only thing we have in common is the disease that binds us together. We don't always get along. Sometimes we have to fight things out, or tell each other how we're falling short. And we will never agree on anything. But we can get away with it because of that family tie. We can say things to each other that no one else can say to us.
Dr. Lee, despite her official role with CFSAC, is an outsider to this community, regardless of what you believe about her motives, her capabilities, her decisions, or her personality. As far as I know, Dr. Lee is not one of us. That's not a criticism; it's a fact. Dr. Lee is not an ME/CFS patient, has not treated ME/CFS patients, and is not a caregiver for an ME/CFS patient – as far as I know.
It is not Dr. Lee's place to tell me how to advocate, who to criticize or how to do it. I happen to agree that personally attacking people is counterproductive, but that's my choice. It was completely inappropriate for Dr. Lee to publicly criticize the advocacy community. She's free to do that in private all she wants. But her attempt to admonish us in public had the precise opposite effect to the one she intended: now we're all criticizing her for these inappropriate remarks. Dr. Lee, please, just stop.
Wasted Opportunity, Wasted Time, Wasted Money
I have a very very long list of questions that were not answered yesterday. There were multiple questions that could have been asked during the discussion period, but no one did. For example, don't we want to know who is serving on the steering committee for the Evidence-based Methodology Workshop? But Dr. Maier didn't mention it during her NIH report and no one asked her. It was driving me bonkers.
The two workgroups provided interesting presentations, especially the Researcher and Clinician-Scientist Recruitment Workgroup. But because all discussion on NIH, CDC, and the two workgroups was shunted to the end of the day, most of the issues were not explored. That final discussion period was a chaotic mishmash of back and forth between the two workgroup presentations, other tangential issues, at least one minute spent figuring out how to get recommendation text posted (again, rehearsal? anyone?), and a maddening discussion about Wikipedia. The quickly drafted recommendations were not even actual recommendations and, as the group ultimately decided, needed a good deal more development.
Do you know what this meeting actually was? It was a status update. Neither workgroup has finished their charge (which in itself is fine!), although it's not clear if the education workgroup realized that they needed to be developing some kind of output. The two agency reports were heard but not questioned. The only votes were 1) to allow time at the end for departing member comments and 2) to ask the education workgroup to develop more background for their recommendations. This meeting was a five-hour, taxpayer-funded status report.
Denise Lopez-Majano asked the question of the day in her public comment: if the Office of Women's Health recognizes the need for an additional 1-2 day webinar meeting in February 2014, why was this meeting held at all? This is why so many of us asked that the meeting be canceled and rescheduled in full. Every aspect of this advisory committee meeting was given short shrift because of the decimation of the allotted time. It was disrespectful to people affected by ME/CFS and to the substantive work of the Committee. I don't know how much it cost to hold this meeting, and I don't know how much a cancellation might have cost. But I don't see how anyone can claim it was worth it. The other investment that has been squandered is the time and effort of so many advocates who have attempted to assist the CFSAC leadership in improving the effectiveness of the Committee.
This meeting accomplished two things: the public airing of the lack of progress across multiple domains and an exponential increase in frustration in the advocacy community. As many people pointed out yesterday, there is a serious disconnect in communications between HHS and the advocacy community. The decision to go ahead with this meeting was a terrible capstone to the precipitous decline in the HHS-advocacy relationship. Unless, as I said in my written comments, "HHS intends to send the message to the ME/CFS community and to you, CFSAC members, that it does not care what we think, it does not want our input, and it does not intend to do anything beyond or better than what it is already doing."
If that's the case, mission accomplished.