When the news about the IOM contract first broke on August 27th, I was at my training for FDA Patient Representatives. Here is my much delayed write-up of that training.
Every year, the FDA Patient Representative Program holds an in-person orientation for the new representatives. With the help of my husband, who drove the car and then pushed my wheelchair around the hotel for two days, I was able to attend this year. Patient representatives are called upon to serve on FDA advisory committees that are considering drug and device applications. I expected a series of dry presentations, but the meeting was much more than that.
"Survivors, fighters and advocates"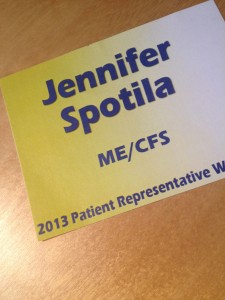 My fellow representatives are, in a word, extraordinary. There were many cancer survivors, some of them having beat the disease three or four times. There were patients with multiple sclerosis, Crohn's disease, Parkinson's, ALS, alopecia, pulmonary fibrosis, and cardiac disease. There were two parents who have young children with short bowel syndrome and liver damage. I met an extraordinary woman with thalassemia, a rare genetic blood disorder affecting only 1,000 in the United States but many thousands more in other countries. Another woman has mitchondrial myopathy and told me that many patients with that disorder are diagnosed with CFS somewhere along the way.
It was weird to have my disease on my name tag, but I quickly began to see it as a badge of honor. One of the gentlemen with ALS commented that this was "a room full of survivors, fighters and advocates." Every patient in that room had suffered, and many had looked death in the face. But every single one of us emerged with determination to do something positive. Every patient was there to help their communities. Almost all of us had founded or served on the boards of organizations dedicated to finding answers for our diseases. Many of the patients able to work have made advocacy their careers.
There were several presentations by veteran patient representatives, but the most inspiring was by Matthew Sharp. Matt shared his perspective on HIV/AIDS activism, particularly the evolution of the relationship between activists and FDA. The patient representative program exists because of HIV/AIDS activists, and we have a lot to learn from how they have participated in the drug development process as well.
My one regret about the meeting is that I was not more prepared to introduce myself and ME/CFS. I was one of the first patients to speak during introductions, and I wasn't sure how much time I could take. I realize now that I assumed most people in the room would know that ME/CFS is a serious disease, but that turned out not to be the case. I had more chances to address it during the meeting and with individual attendees, but I should have had my "this is ME/CFS" elevator speech ready to go, and I missed that opportunity.
The Boring Stuff
There were some technical and mechanical presentations, as I expected. The director of the Office of Health and Constituent Affairs introduced us to the program and to FDA. Over the course of two days, we heard about the drug and device development life cycles, the history of FDA, Medwatch, the orphan drug program and minority health issues. There were key presentations on the extensive conflict of interest clearance process for serving on an advisory committee and how to review the hundreds of pages of information to prepare for a committee meeting.
An key goal of the training was to help us understand the importance of the perspectives we bring to advisory committees and how to contribute to those discussions. Patient representatives are not expected to understand the scientific or statistical minutia of drug applications. Instead, we can bring the instincts, questions, and perspectives of patients and families. Our views are needed on the committees, and we should not be shy about sharing those views. Several representatives talked about the value of asking questions that the scientists wouldn't think to ask. The bottom line was that we should not feel intimidated by all the scientists and data. FDA wants us there because of our unique perspectives. It was very clear from the FDA employees attending the meeting that they recognize and advocate for the value of patient perspectives at multiple stages in decision making.
What Next?
While some patient reps may be called to serve on advisory committees in the near future, I will probably be waiting a long time. As far as I know, there are no treatments for ME/CFS moving quickly through the pipeline and approaching the final phase of approval. At this time, there is no formal way for me to impact ME/CFS drug development within FDA. I think that the trend is moving towards more participation. For example, the Patient Focused Drug Development meetings are an attempt to capture patient perspectives on specific diseases (ME/CFS included). Within FDA, the need for clearing conflicts of interest are a barrier to swift engagement of patient representatives at meetings with drug developers. But the FDA staff members told us that they are actively pursuing ways to incorporate patient perspectives earlier in the development process.
I was not the only person feeling frustrated about that. Many of the representatives were critical of FDA on this point, and repeatedly asked FDA to be creative in harnessing the expertise of patients. Two of the representatives who attended the meeting have recently created a Facebook group so that we can all stay in touch. The representatives at the meeting had such intelligence and determination that I think we can find ways to harness our collective contributions to achieve practical change. I am certainly committed to doing so.