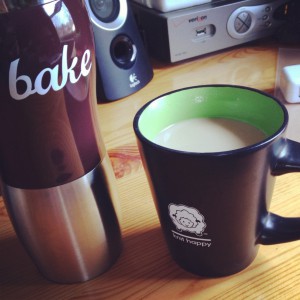 I graduated with honors from an Ivy League law school, and it was largely made possible by coffee. There was a Cinnabon right around the corner, so most mornings I picked up a ginormous vat large cup to get the day going. I mean, how else do you fuel an 11-hour study session? Coffee got me through the bar exam, and then carried me through a six week road trip. One of the best memories I have of that trip is laughing with a best friend over The Worst Cup of Coffee In The World. No, really. The coffee at the Conoco in Sandpoint, Idaho was the worst, and we gave it the official designation it deserved. Buying the first cup of coffee of the day on my way to work was my treat for being in the office by 7am, and on the weekends it was an integral part of pretending to be a writer.
Then I got sick. Still loved coffee but it stopped loving me. First I gave up regular for decaf. Then I gave it up altogether, except for occasional indulgences, because it had such a vicious effect on my gut. My coffee pot was pushed farther and farther back in the cabinet. I drank tea, but even that became touch and go after awhile. Giving up tea or coffee sounds like such a small thing. Compared to losing my career or the ability to drive, being unable to drink coffee sounds so insignificant. But to me, losing coffee was one of a thousand paper cuts. On its own, it means very little but along with everything else I've lost or been forced to give up? It was insulting. I know I can't work, but I can't even drink coffee? Come on!
I found some treatments that dramatically improved my gut symptoms. As my gut improved, I started to wonder if any of my dietary restrictions were now obsolete. First, I added back tea. Then a cup of coffee, just as a test. No problems. So in a fit of optimistic insanity, I had coffee three days in a row. I know, right? And it was fine. FINE!
And just like that, I got coffee back. I know many people recommend that CFS patients avoid caffeine (and a host of other things). I also know at least one CFS patient who is able to take care of her teenaged sons only through the power of coffee. For me, it's about being able to drink the beverage I associate with productivity, long road trips, friendship, and writing. It's about having that piece of my normal back in my life.
This morning, I made half a pot of coffee. I filled my cup and went to carry it upstairs to bed so I could work on this post. And it bothered me that there was coffee left in the pot that I was 50% likely to leave unconsumed because I would not want to use the energy to go back to the kitchen, refill my cup, and carry it back up the stairs. Sometimes I make it back for that second cup, sometimes I don't. What a waste.
And then it hit me in a flash of clarity that made me feel brilliant and stupid at the same time. We have insulated travel mugs in this house. DUH! So I fished one out of the cabinet, and poured the second cup in there. Thus armed, I carried both cups upstairs to bed. No wasted coffee, and my second cup would stay warm until I was ready for it.
It's only taken me 18 years to figure this out.