I should be marching right now.
I mean, I had my plans all worked out. #MillionsMissing tshirt? Check. Wheelchair wheels freshly pumped up? Check. Water and food? Check. Ride to March? Check. Kick ass awesome sign made by my husband? Check.
But here is what the weather is doing right now: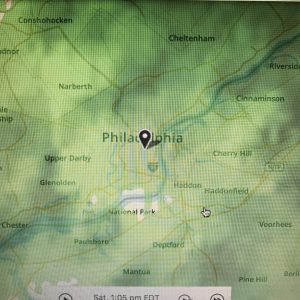 It's 50-some degrees and raining.
For those of you who have not had the pleasure of sitting in a wheelchair in the rain, you can role play it. Go sit in your yard, preferably in the shade with spring-like temperatures. Have someone sprinkle you with water from the garden hose. For an hour. You are wetter than usual, because more of your body is exposed to rain while you are sitting. You are chillier too, because you are not walking around and keeping warm. Now imagine that water spitting off your wheelchair wheels is soaking your legs. Rain is running down your back. The people around you are shedding rain in your lap. Oh, and your wheelchair might slide a bit on rainy streets.
So I decided not to go. This seemed like the adult decision, paying proper attention to self care and all that. Then I watched the photos start rolling in on Twitter. I started crying when I saw this one:
@sciencemarchPHL #ForceOfNature #marchforscience #ScienceNotSilence #resist pic.twitter.com/COznMMqMur

— Milson (@MilsonHBIC) April 22, 2017
I began to lay the heaviest guilt trip on myself. It went something like this: "You told people you were going to march. You arranged everything. You offered to put the names of other people with ME on your sign. You asked for input on what your sign should say. Now you're dropping out. A little rain, and you wimp out. You could have done it. It's just rain. So what if you get cold and wet. It won't kill you. You should go. You are a disappointment. You are a coward. You're a jerk."
There was a small corner of my brain that was emotionally detached enough to start marveling at this monologue. Was I really talking to myself that way? Yes. Would I speak to anyone else that way? Of course not. Do I believe all those things about myself? Well . . . yeah, I am a disappointment. Really? Well . . . .
To my fellow disabled activists NOT out protesting today (myself included) your actions at home matter. You are valued. You kick ass.

— Elsa SjunnesonHenry♿ (@snarkbat) April 22, 2017
I sat with these thoughts for awhile. Did I really think I was a disappointment to anyone for choosing not to roll and sit in the rain? Was it my fault? Ah, there it is. Fault. It is not my fault it rained. And it is not my fault that I could only go to the march in a wheelchair. It really isn't. But I tell myself that I am the disappointment, because if this is my fault then I have control over it. And I like control.
But control is an illusion. I am sick. I am disabled. I need a wheelchair if an event involves more than a couple blocks of walking or more than a few minutes of standing. Attending the March for Science on a dry sunny day would be a hardship. I would be sicker afterwards, under the best of circumstances. If I were sitting out in the chilly rain, my pain would spike to a level uncontrollable by my medication. And this would set off a physiological cascade that would exacerbate all of my symptoms.
That's science talk for "I would feel like shit."
I support science 100%. My family is filled with scientists. My health is very much dependent on science. A lack of science  – especially research on ME – has confined me to that wheelchair. And the wheelchair combined with bad weather prevented me from being able to publicly show my support for science and scientists.
But my beloved city turned out, along with cities all over the world. From where I sit, science matters. It matters very much, indeed.
Estimates are coming in that over 20,000 friends of #science in Philly came out to #marchforscience! #whyilovephilly pic.twitter.com/GAkNyNyQCS

— Philly Science March (@sciencemarchPHL) April 22, 2017
Good vibes at @sciencemarchPHL #ScienceMarch #marchforscience #sciencemarchphl pic.twitter.com/YlqJcHCCqM

— Stephanie Manasse (@stephmanasse) April 22, 2017