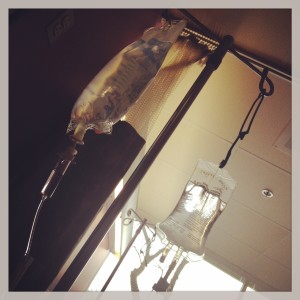 I'm beginning a new experiment: IV saline. Regular saline infusions have been used by many ME/CFS patients to cope with orthostatic intolerance for years, but I've never taken them regularly. Yesterday, I received the first of four weekly treatments. How much to take, and how often, is trial and error. If it helps me, then perhaps this will be an ongoing treatment (hopefully at home). In the meantime, here's what I learned in the infusion center yesterday:
No matter how sick and disabled I feel, I am still the healthiest patient in the chemo suite.
Noise cancelling headphones are essential equipment.
Bending my arm the wrong way not only hurts, but it sets off an earsplitting alarm on the infusion pump.
It's cold. I need a better strategy than covering up with my jacket.
I should not have bothered bringing the IOM Gulf War Illness case definition report. Reading? Ha!
I would be better off saving the weekly episode of This Week in Virology for infusion entertainment.
Be very flexible and very patient. See Lesson #1.
I ended the infusion with the familiar tired but wired feeling. Listen to the "tired," Jennie, and go to bed when you get home.
I am very blessed to have friends willing to drive me to and from infusion. Not being able to drive myself stinks.
I experienced a weird awareness that I had no appetite but knew that I really needed fuel. Plan ahead and bring a snack.
I struggled with a lot of guilt during the infusion, like I didn't deserve to be there because I wasn't receiving chemo.  But my doctor and I believe this is a necessary experiment. I had to remind myself many times that I am just as deserving of healthcare as everyone else getting infusion.
I need to pay careful attention to how I feel, and whether the IV helps. But I also need to be careful about my expectations. This may help; it may not. I'll try to take it as it comes.