Fiscal year 2018 is almost over, and I have calculated how much NIH is likely to spend on ME research this year. The short answer? Based on current numbers, I project a 17.6% decrease in NIH spending on ME/CFS research in FY 2018.
*record scratch*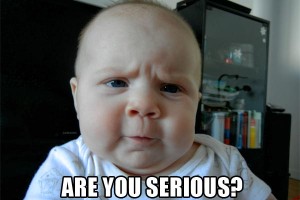 For real, yo.
First, we have the grants continuing from last year:
NIH has made two new grants so far in FY 2018. That's right. Just two new grants:
There are two additional grants that are due to receive funding in August: Dr. Luis Nacul's longitudinal study ($539,153) and MD/PhD candidate Rakib Rayhan's study on neural correlates of fatigue ($35,844). Finally, there will also be intramural research, including Dr. Nath's Clinical Care Center study. There is no way to predict how much that will be, but let's assume $614,000 to match the 2017 funding.
With these grants combined, NIH will invest $5,275,984 in ME/CFS investigator-initiated and intramural research in 2018, a decrease of more than 21%.
What about the Centers? That funding will probably come through in September. The original projection from Dr. Vicky Whittemore stated that funding would be lower after the first of the five years because the Office of the Director's $1 million contribution was for one year only. If that is the case, then NIH will spend $6,225,267 on the Centers in 2018, a decrease of almost 14%.
In my analysis of 2017 funding, I pointed out that without the Centers, NIH funding of ME research would have dropped by 15% in 2017. As projects ended, and new projects were not funded to replace them, I predicted that grants would continue to go down. Last year, I said:
[N]ew grants accounted for only 5.4% of the spending. This is a really big problem. We need a large and steady pipeline of new projects to be funded apart from the Collaborative Research Centers. If NIH does not expand its non-Center portfolio, the field will suffer.
And it has come to pass: the hit in 2018 will be even larger. The two new grants to Dr. Davis and Dr. Schutzer comprise 21% of the total grants/intramural funding, but too many other grants reached the end of funding in 2018. And this year, the Centers do not hide the decrease in funding since the Centers themselves had a planned decrease after the first year.
I also warned about the opportunity costs of the Centers last year. Seven groups invested a great deal of time in Center applications but did not get funded. If they do not successfully turn those into individual grant applications, then that effort was for naught.
In May, Cort Johnson reported that only a dozen applications have been submitted to NIH in 2017/2018. This is just as appalling as a drop in NIH funding. We need heroic efforts on all sides. We need NIH to be invest more money, but we also need our researchers to do heavy lifting and get those grants submitted. I know first hand how time consuming writing grant applications can be, and I understand that researchers are reluctant to invest the time if they think funding is unlikely. But we are at the point where submitting more grants is critical, regardless of the predicted likelihood of success.
NIH is currently projecting an increase in spending to $16 million in 2018. Given the numbers so far, how could that happen? Perhaps the Centers will receive more money, or Dr. Nath will spend more on his study. Yet given the approach detailed in Dr. Walter Koroshetz's letter to MEAction, this does not seem likely.
My projection looks like this:
| | FY 2017 | FY 2018 | % Change |
| --- | --- | --- | --- |
| Grants/Intramural | $6,742,437 | $5,275,984 | -21.7% |
| Research Centers | $7,225,267 | $6,225,267 | -13.8% |
| Total | $13,967,704 | $11,501,251 | -17.6% |
I hope I am wrong about this. I would like to be wrong about this. But unless NIH makes some dramatic decisions between now and the end of September–decisions that increase funding by millions this year–there is no way NIH can claim it is moving in the right direction.