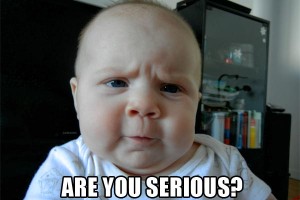 It's time for another round of "How Stupid Is This?"
That's a game I just invented. There are no rules, and definitely no prizes. Trust me. It's a great game. It's even more fun if you read this whole post in a game show host voice.
The Contestant of Stupidity this time is . . . ok, imagine a drum roll here . . . The Contestant of Stupidity is  . . . the CFS Advisory Committee!
*shakes pompoms*
*throws confetti*
*gets dizzy and has to sit down suddenly*
What did the CFSAC do this time that is Incredibly Stupid? You're going to love this. And by love, I actually mean hate.
On Monday, November 27th, the public notice of the upcoming CFSAC meeting will be published in the Federal Register. The deadline to sign up for public comment at this meeting is . . .
. . . wait for it . . .
If you guessed close of business on Monday, November 27th, YOU ARE RIGHT!
YES! The meeting notice telling people how to sign up for public comment is being published ON THE SAME DAY as the deadline to sign up for public comment!
*turns to all of you* Well, audience? *all of you respond in unison* How Stupid Is This?
I cannot recall this happening before. I mean, we've had some short deadlines. And every time, advocates politely write in to the Office of Women's Health to remind them that this is a very sick population, most of whom simply cannot turn on a dime and write testimony in ten days or sign up within three days or whatever. So don't think that maybe the Office of Women's Health doesn't know that this deadline guarantees that many people with ME will miss the deadline, and therefore miss the opportunity to offer public comment at the meeting. They know.
You know what else is stupid? The meeting notice does not give a deadline for submitting written comment. Do you think that means the testimony is due on Monday the 27th? or maybe a few days before the meeting? or the day of the meeting? Your guess is as good as mine.
While we're at it, check out this other stupid thing. According to the Charter, the committee is supposed to have thirteen members. So how many do you think are listed on the roster as of today?
FOUR. Four members.
That's pretty awesome, yeah? These vacancies didn't sneak up on anyone. I warned this would happen back in June 2017 and December 2016. I've heard new appointments are imminent, but there's no way that they will swear in nine new members at the December meeting.
So if you would like to give public comment in person or by phone on December 13th or 14th, don't wait for Monday!
Email your name and phone number to cfsac@hhs.gov TODAY! See the meeting notice for more instructions.
I think we can all agree, this was Incredibly Stupid. But congratulations CFSAC for being today's Contestant of Stupidity! Let's give them a round of applause, shall we?
UPDATE November 27, 2017: CFSAC sent out the following notice this morning: "Due to a delay of a few days in publishing the FRN, we will be taking public comments through next Monday, December 4th."