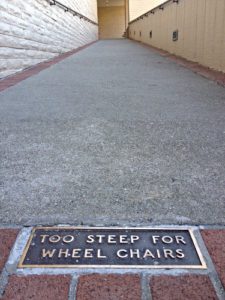 In aggregate, 2017 turned out to be the biggest year of ME/CFS funding at NIH ever. But when I scratched the surface, I found bad news buried within the superficially good news. We are still at the bottom of the funding ramp that Dr. Collins promised us, and the ramp is too steep for us to climb without help.
Let's get the big number out of the way. In FY2017, NIH spent $13.3 million on ME/CFS research. If you only care about the total spending number each year, then you might be satisfied that the number was bigger than 2016.
But how the money is spent is a more important to me. I don't care how much money NIH throws at ME research if the studies are crap. So let's break the numbers down to understand how this money is being allocated.
NIH spent $5,101,155 in grants continuing from last year (Katz, Williams, Younger, Friedberg, Alaedini, Medow, Nathanson, Baraniuk, Campagne, Fletcher, Jason, Unutmaz, and Riley). Dr. Friedberg got an additional $103,188 for a study with the same description but a different title from his grant from 2016. NIH renewed Dr. Luis Nacul's UK longitudinal study for $539,153 in 2017. And NIH awarded two new grants: to Dr. Kathleen Light for $329,085 and to Rakib Rayhan for $35,844. Combined, that's a total of $6,108,425 in non-RFA money for 2017.
At the very end of September, NIH announced the long awaited Research Centers and Data Center:
The total RFA funding for 2017 comes to $7,225,267.
So, the grand total of NIH spending on ME/CFS research in FY2017 totals $13,333,692. Fantastic, right? This is an increase of almost 75% over 2016.
But there are two very troubling data points buried in that number.
First, without the RFAs we would have seen a significant decrease in NIH funding in 2017: from $7.6 million in 2016 to $6.1 million in 2017. This decrease of more than $1.5 million represented a 20% drop in funding. If the fiscal year had closed before the RFA money was awarded, this would have been a very bad news story. Second, there were only two new grants in 2017. And those two combined were worth only $364,929. That is miniscule compared to 2016, when there were five new projects totaling $1.4 million.
These are the seeds of future disaster. NONE of the researchers who submitted applications for the Research Centers were successful in competing for new individual grants in 2017. Those applications were so labor intensive (as I can personally attest) that either researchers did not submit individual applications or those applications weren't very good. So hurray for Drs. Hanson, Lipkin and Unutmaz, but everyone else was screwed.
This is a huge problem. We need to see many new grants each year because it maintains a consistent pipeline of projects. As the existing grants phase out over time, we need new studies to begin. Otherwise, we will see gaps in the project cycle.
Don't expect the seven groups who lost out on the RFA money to turn their applications around and resubmit instantaneously. The research center applications were massive (500 pages or more), and interconnected. It's not as simple as chopping the application apart and sending it in again. It will take time to reorient the applications and incorporate the feedback from reviews, and I suspect that not very many investigators will meet the October deadline for the next round of funding. That means a further delay as applications are prepared and submitted in future rounds, and crawl through the review process. Grants submitted in early 2018 won't see funding until the summer or fall.
There is another vulnerability. More than half of the 2017 funding went to the Collaborative Research Centers and Data Center. One of the basic principles of investing is diversification. But NIH has concentrated 54% of its ME/CFS research portfolio in Cornell, Columbia, Jackson Labs, and the Research Triangle Institute. A number of people have rightly criticized the geographic concentration in the Northeast, but I am just as concerned about the funding imbalance. These Centers will take time to come up to speed, recruit subjects, etc. The RFA provides five years of funding, and it will take at least that long for the Centers to start publishing results.
And don't forget how long it took to get here. Dr. Collins said in November 2015 that NIH was going to ramp up funding. We waited until January 2017 for the RFAs to be announced. Then we waited until last week for the award of that money.
So TWO YEARS have bled away between the "ramp up" promise and the award of the RFA money. But at the same time, the non-RFA research funding decreased by 20%!
This is not a pretty picture. We are magnitudes short of funding commensurate with disease burden. We are magnitudes short of what NIH admits – actually admits – is needed in this field. We've spent the last two years waiting at the bottom of the funding ramp, and even losing ground, before getting the RFA money. And because of the timing and allocation of the funding, I expect to see gaps in the project cycle as current grants wrap up and future grants have not started.
Time = Lives.
Time. Is. Wasting.
Here is my proposed solution: NIH should work with the seven Centers that did not get funded and help improve the quality of those proposals. Then NIH should fund another three Centers in FY 2018. That would significantly increase funding and put three more Centers in the pipeline behind the current group. That would be a good start to build this field.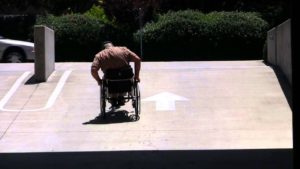 The worst possible thing NIH could do right now would be to wait a few years before funding more centers.
Think about it. When you are in a wheelchair at the bottom of a steep ramp, do you need a nudge or do you need a sustained push?
Obviously, you need a sustained push. But what people with ME are getting from NIH right now is a nudge, and we are in danger of rolling back down the ramp.