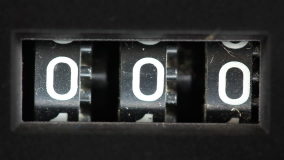 NIH issued no RFAs last week, but we have plenty to talk about after Dr. Vicky Whittemore's presentation at the CFS Advisory Committee on Friday. Dr. Whittemore's announcement was simultaneously welcome and disappointing.
During her update to the committee on NIH activities, Dr. Whittemore revealed how much money the long delayed RFAs will offer: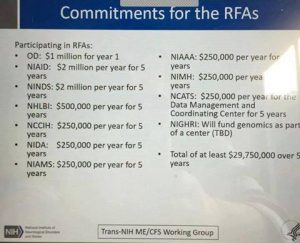 The RFAs should total approximately $29,750,000 over five years. Dr. Whittemore said that this money is in addition to the expected investigator initiated proposals that we're familiar with. She also said that it was challenging to get these Institutes to commit these dollars.
It is notable that ten of the twenty-seven NIH Institutes are contributing money, plus a one-year contribution from the Office of the Director. The bulk of the money is coming from the National Institute of Allergy and Infectious Diseases and the National Institute of Neurological Diseases and Stroke. This is not surprising, as most grant funding for ME comes from these two Institutes. The National Center for Advancing Translational Sciences is restricting its contribution to the RFA for the Data Management Center, which is a bit disappointing because NCATS is among the leaders at NIH in incorporating stakeholder input into its funded studies. It would be nice to take advantage of the existing infrastructure there.
What does this mean in terms of how the money will be used? The payout should look something like this:
Year 1: $6,750,000
Year 2: $5,750,000
Year 3: $5,750,000
Year 4: $5,750,000
Year 5: $5,750,000
This money will be divided between the RFA for the Data Managing Center and the RFA for the Research Consortium. I think Dr. Whittemore expected two to three sites would be funded, plus the Data Center (which does not necessarily have to be at another institution). I'm guesstimating $1.6 million to each of three sites and $750,000 for the Data Center, per year.
Is this good? Well, yes, in that something is better than nothing. And also yes, because NIH is making a five year commitment. Based on Dr. Whittemore's comment at the IACFS/ME meeting that 2016 funding for ME would be doubled in 2017, I had personally predicted an RFA total of $7 million maximum for one year. That was a little high, it turns out, but I did not expect the five year commitment.
But this is also disappointing. Measured by the overall NIH yardstick, $6 million a year for a research consortium on a disease that costs our economy $20 billion a year is not even peanuts. NIH gave $7 million a year to Fragile X Research Centers (Fragile X is a rare genetic disorder). NIH's Autism Center of Excellence Program is funded with about $20 million per year. And the huge NIH Pain Consortium offers myriad funding opportunities, including a number of research center programs.
I am deeply concerned that some of the Institutes are contributing only grudgingly. Furthermore, I think it's unlikely that there will be additional RFAs for at least two or three years while we wait for the Consortium to get going and bear fruit. The successful Consortium applicants better knock this out of the freaking park. We need highly economical management of projects that produce extremely promising interim results. That's the only way we can secure bigger commitments quickly.
Furthermore, we need researchers to submit proposals outside the RFA mechanism. Lots and lots of proposals. Again, the only way we will see an increase in dollars is if more proposals are successful. I know grant writing is a pain in the butt. I've watched four members of my family go through the process repeatedly over the years. But you can't win if you don't play the game. I would love to see the number of applications double in 2017 and then double again in 2018. That demonstration of interest would send a loud message to NIH that we are "shovel ready."
I suspect that some (many?) advocates may want to focus on thanking NIH for this investment, and not say anything negative about it. But here's the thing: when you are starving to death on a cup of rice a day, the addition of another cup of rice sounds like a banquet, but you are still going to starve to death.