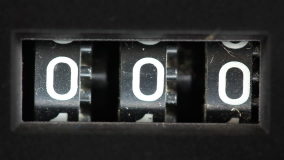 Zero, zilch, zippo, nada, cero, null, nulla, sifr, nul', ling, nialas, sero, naught.
No matter how you say it, we got nothing.
Despite the promise in October 2015 that a request for proposals would be issued "soon." Despite Dr. Collins's statement to NPR in November 2015 that NIH would "ramp this up." Despite Dr. Vicky Whittemore's estimate at the May 2016 CFS Advisory Committee that the RFAs would be issued by June or July 2016. Despite NIH's public statement in the Federal Register in October 2016 that the RFAs would be published in December 2016.
We. Got. Nothing.
Specifically, NIH announced on the last business day of December 2016 that the RFAs are now expected to be published by the end of January 2017. NIH said that "due to a high level of interest from multiple NIH Institutes and Centers, several rounds of revisions were required, and a number of finishing touches are necessary to optimize the funding announcements."
Remarkably, Dr. Francis Collins even made a statement on Twitter:
Lots of interest in #MECFS research from NIH Institutes leads to 1 mo delay in FOA, no effect on research start date https://t.co/cOg37kYGYZ

— Francis S. Collins (@NIHDirector) December 30, 2016
This very public update on the status of the RFAs is clearly the result of activism. First, Terri Wilder/MEAction and I launched a public effort to urge Dr. Collins to keep his promise to the ME community. Then Janet Dafoe suggested that people with ME tweet Dr. Collins with their pictures and a statement that they are waiting for funding.
How about all #pwME tweet or send a photo of themselves to @NIHDirector with label "ME/CFS sufferer waiting for funding of research" & name.

— Janet Dafoe (@JanetDafoe) December 29, 2016
This filled Dr. Collins's Twitter feed with dozens of pictures of severely ill people with ME, in a very moving wave of activism.
These public acts holding Dr. Collins accountable for his broken promise led to the statement on Friday about the delay. The reason, according to Dr. Collins and the public announcement, is that a high level of interest from the Institutes resulted in revisions and "finishing touches."
These RFAs have been in progress since June 2016. In October 2016, NIH said they would be out in December. Was there an increase in the level of interest from the Institutes between October and December? More importantly, will this increased interest lead to increased funding? Dr. Whittemore told me by email in December that the money was committed, so that the continuing budget resolution would not impact the funding. If the money was committed by December, I don't think it's likely there was a last minute surge of interest and funding.
NIH has moved the goal posts again, this time to the end of January 2017. A reasonable person might think that this public statement of the new deadline would ensure that NIH meets it. But that reasonable person should take into account the previous public statements by Dr. Collins and by NIH in the Federal Register. NIH has not come through on previous self-imposed deadlines. It remains to be seen if this time it will be different.