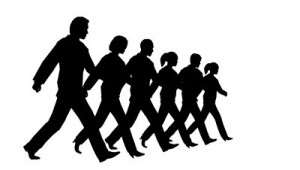 There is one official final step in the P2P process: a federal partners meeting supposed to be held six to eight months after the workshop. But there are other marching orders, too. For us.
Federals Only
As described on the P2P website, there is a federal partners meeting six to eight months after each workshop. The purpose of the partners meeting is to review the panel's report and identify possible opportunities for collaboration. The key here is that it is federal partners only – no other stakeholders are invited as far as I can tell.
Only one P2P workshop has progressed to the partners meeting. The Polycycstic Ovary Syndrome (PCOS) federal partners meeting was held in May 2014, almost 18 months after the PCOS workshop. There is no list of attendees posted online, but a basic summary of the meeting is available. A number of ideas seem to have been tossed around, but no specific action items or commitments were made by the federal partners.
The takeaway is that the final P2P step is a meeting for federals only, without a track record of producing actions or commitments. For all the fuss and promotion around P2P, NIH seems rather uninterested in applying anything that comes out of the process.
The To Do List
But WE don't have to take the same attitude. As I said in my post about the P2P report's failures, there are good things in the report too. I have compiled a list of all the action items suggested by the Panel, and I think we should use it to check NIH's progress at every opportunity.
You can see the full list here. I've included citations to the pages where these recommendations appear. The only changes I made were to make the phrasing active, rather than passive. The recommendations are listed in the order with which they appear in the document. I had hoped the Panel would explicitly prioritize their recommendations, but the order remained unchanged from the draft report. It is a very long list of action items: sixty-five in total. What it boils down to is this:
Reach consensus among the stakeholders on a case definition.
Prioritize biomedical research for biomarkers, pathogenesis, diagnostics, prognostics, and therapeutics, including -omics and imaging studies.
Create a central repository/registry for biological samples and clinical data.
Increase patient involvement in creating research priorities, patient-reported outcomes, and the case definition.
Disseminate best practices and training to primary and specialty physicians.
Create a network of centers to determine: biomarkers for diagnosis and prognosis; epidemiology; outcomes; cost-effectiveness; co-morbidities; recovery; and control populations.
Convene an ME/CFS expert panel in five years to monitor progress.
Many of these items have been recommended by the CFS Advisory Committee and advocates many times before. This is a list that cannot be completed in five years, and which will never be completed without a very substantial increase in investment.
But a significant value of this list is that it gives us the structure for an NIH report card. We should, at every opportunity and in every possible venue, ask what progress is being made on the list. Print out that NIH report card and share the list with Congress, asking them to monitor NIH's progress on this advice which, after all, NIH requested itself. Bring the list to every CFSAC and ask the NIH ex officio what progress is being made. Mark your calendar for June 2020, and demand that ODP reconvene an expert panel to monitor progress.
And if no progress is made? If NIH focuses on the cheap and easy recommendations? Then we wave this list and remind them that THEY requisitioned these recommendations, not us. These are not recommendations from the same crowd that has been making the same recommendations for twenty or thirty years.
Funding Funding Funding
Despite the Panel's reluctance to explicitly recommend an increase in ME/CFS research funding, it is patently obvious that the necessary progress cannot be made on $5 million a year. We must continue our demands for increased NIH funding, especially because it looks like NIH might get a 6% increase in budget in FY2016. Much of those funds will go to "sexier" projects like precision medicine and the BRAIN initiative. But NIH cannot continue to claim there is simply no money.
So how do we go about pressuring NIH to increase its ME/CFS investment? There are several petitions in circulation, and ME Advocacy is running a one-click campaign. ME Action has a petition for more funding. There's also an email campaign directed at NIH. But as with all advocacy efforts, make sure you read all the details before signing on. Some of these efforts explicitly reject the IOM report, others incorporate quotes from IOM and P2P reports in support of research. Know what you're signing.
If you can't find a petition or one-click campaign that fits your views, then consider starting your own. ME Action provides a platform with organizing tools for a variety of actions. And it bears repeating that contacting your own representatives is always a good idea. Congress may especially be interested in whether HHS takes any of the expensive advice they got from IOM and P2P.
Marching Orders
Here's the bottom line: the P2P Panel recommended research priorities that will cost a lot of money to carry out. Many of the recommendations match what advocates have been saying for years. The only way to make progress is to significantly increase research funding for ME/CFS.
NIH controlled the P2P process. NIH selected the panel members, defined the questions, designed the evidence review and the workshop agenda. This has been NIH's game, played by their rules. If NIH does not like the advice they got, or if this was all just a show never intended to go anywhere, then that just gives us even more political ammunition.
We must demand the necessary increase in funding. We must hold NIH accountable to the report card of recommendations. We've got our work cut out for us.
Let's get going.