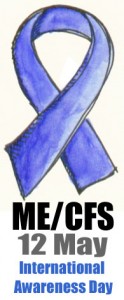 May 12th is International ME/CFS Awareness Day, selected because it is Florence Nightingale's birthday. If you look around blogs and social media today, you'll probably see a lot of blue ribbons and statements from patients. There's the May 12th Blog Bomb. Niagara Falls and other public places will light up the night. I expect we'll see an increase in media coverage and personal testimony, like this fabulous piece by Catherine Hale. And many advocates will reach out to politicians to ask for increased research funding and better services.
But here's the thing: we are just preaching to the choir.
If you read my blog, you are already aware of ME/CFS. If you tune in to any of the awareness activities with more than cursory, passing attention, chances are you are already aware of ME/CFS. Does lighting up Niagara Falls actually spur people who know nothing about the disease to look it up and learn something? Do we even know what the tipping point would be – how much awareness activity saturation you need in order to get strangers to pay attention? I'm not saying these activities are pointless, but we should be very cognizant of the fact that the likely impact is small.
But the politicians and policy makers, you say. What about increasing their awareness? Yes, that is important, and I know that my own Congressmen have a limited level of awareness and concern. Finding ways to increase that could be helpful – if we ever have the resources to launch a legislative campaign.
The people who really need to be aware are the decision makers at CDC, NIH, and HHS. And I am telling you that they are already aware. These agency personnel recognize ME/CFS is a serious disease and an unmet need. They know this. Dr. Francis Collins (Director, NIH) is aware of ME/CFS. CDC is aware. FDA is aware. HHS Secretary Burwell is very aware. These people know about ME/CFS.
The problem is not awareness. The problem is that they are aware, and yet they do not respond with the urgency and commitment required. They are aware, and yet they will not commit more resources to address the science gap. They are aware, and yet we still hear the same excuses that there is no money, the science is hard, we don't know what we're studying, ad infinitum, ad nauseam.
Do you want to talk about awareness? I am very aware that my mother spent the last twenty years of her too-short life watching me struggle with this disease. I am very aware that my mother actually feared I had AIDS at one point because I was so sick, so suddenly. I am very aware that I will never run or dance with my niece, and I will never hike with my husband. I am very aware that this illness stole my choice to have children and the career I worked my ass off to build.
Wearing a blue ribbon? Lighting up a building? Writing this blog post? This changes nothing. Even an incremental uptick in awareness is a microscopic drop in the bucket towards building a critical mass of public pressure.
Awareness Day? Great. You are already aware. Our policymakers are already aware. And I am very very very aware that this changes nothing, accomplishes nothing. Because if awareness was enough, we would already have made progress.
We will not see the change that we need and the resource investment that we need until we find a way to leverage the awareness into action. The policy makers will not change their actions and decisions until we force them to. And we will be better served if every single advocate and organization becomes aware of that.