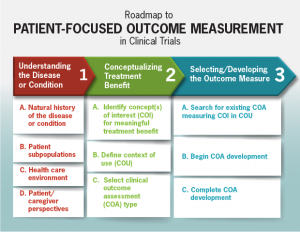 The IOM, P2P and AHRQ reports all pointed out a serious gap in ME/CFS research: the absence of validated ways of assessing clinical outcomes. I have new information about an initiative to change that, and I'll be speaking about my experiences as an ME/CFS patient representative at an FDA public meeting tomorrow.
How do you know if a treatment is working? How do you know if your disease is getting better or worse? As an individual, this is something to discuss with your healthcare provider. But in the context of a research study or a clinical trial, we need ways to assess this systematically. One way to do this is with a clinical outcomes assessment tool.
Clinical outcomes assessment (or COA) measures changes in how a patient feels or functions, and can be based on patient report, clinician assessment, or similar measures. It is different from a biomarker, which is an objective physical measurement. A COA can be a questionnaire or a measure of performance, and it has to measure something that matters (like a symptom or ability to function). This is really important for FDA because there has to be a way to prove a treatment is working.
But you can't just pick a random set of questions and start using it, and expect FDA to accept it. FDA has a whole process of COA qualification. And it can be expensive to do the necessary research to prove that your questionnaire measures what you want in the patients who will use it.
After the April 2013 FDA meeting on Patient Focused Drug Development in ME/CFS, FDA took steps to address the need for a qualified COA in ME/CFS. FDA convened an ME/CFS Outcomes Measures Working Group comprised of representatives from FDA, NIH, CDC, and academia. Last year, I joined this group in the capacity of patient representative. While FDA is not developing the COA itself, the Working Group is collaborating on a proposal for funding to conduct the necessary research.
While I can't share specifics about the proposal at this point in time, I can share my impressions from working with the group. First of all, I think it is fair to say that FDA is highly motivated to make progress on ME/CFS. The agency is not developing the COA tool itself, but they really want to help make it happen. Second, I have been able to participate as an equal member in the Working Group and in sidebar conversations. I have been treated as an equal, and my perspective as a patient has been sought out by the proposal team. Even better, my experiences as a patient have had an impact on the group's work. This is a group that is open to data and information, and opinions shift as a result.
I have not often had the experience of feeling heard by government employees. This is why I applied for the FDA's Patient Representative program in the first place: to make sure FDA hears the perspectives of ME/CFS patients whenever possible. It has been rewarding to share my experiences with a group actively working to create a COA for use in ME/CFS research and drug development.
If you would like to learn more about COAs and how FDA plans to incorporate patient voices in the process, you can watch an all-day public meeting on Wednesday, April 1, 2015. I have been invited to participate in the last panel of the meeting on the patient perspective on how to move forward. I'm not able to travel to Maryland for the meeting, so will be speaking by webcast.