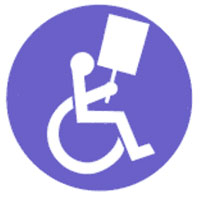 May 12th – ME/CFS Awareness Day – is just over a month away. Plans for a demonstration are underway, via Erica Verillo.
Erica is organizing a May 12th demonstration at HHS in San Francisco from noon-1 PM in front of the Federal Building. She says, "The theme is -30 Years of Neglect.' (This is the 30-year anniversary of Incline Village.)"
This demonstration will be a "wheel-in," with rented wheelchairs provided for demonstrators to sit in. Erica also plans to use pictures of people who have died of ME/CFS, and obituaries will be read.
Erica needs help with the following:
Finding pictures of people who have died of ME.
Volunteers in the Bay area to help make banners and signs.
If you can come, get in touch with Erica! She says, "I realize that wanting to come and being able to come on that day are two different things. But if I have an idea of how many people will be there I'll be able to calculate how many wheelchairs to rent."
EMAIL ERICA: everrillo@yahoo.com
A similar demonstration is also being planned for Washington, DC. I will provide details on that as soon as I have them. If there is any way you or friends/family/colleagues can participate, please get in touch with Erica as soon as possible.