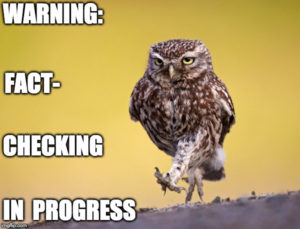 Today, we need to revisit and reconcile NIH's funding numbers for FY 2017. NIH is reporting that it spent $15 million dollars on ME/CFS research last year, but this includes several non-ME/CFS studies. The truth is that NIH actually spent $1 million LESS than what it claims.
NIH reports its funding by disease category each year. If you look at the chart, you'll see that the "Chronic Fatigue Syndrome (ME/CFS)" category reports $15 million for 2017. That number is hyperlinked to a list of all the projects NIH includes in that $15 million. The projects listed on the page come to a total of $14,727,730, although I found a few small amounts left off that total. If I add those all in, it brings NIH's claimed FY 2017 total to $14,780,406 $14,778,403*–which NIH rounds up to $15 million.
But in my analysis in March, I reported that NIH funding totaled $13,946,881 – over $800,000 LESS than NIH now claims it spent. What explains the difference? NIH is counting money spent on grants that are not actually related to ME/CFS.
The first unrelated grant went to Dr. Alan Light "to create a transgenic mouse that will make it possible, for the first time, to image the activity of sensory neurons that signal pain and fatigue in functioning skeletal muscle." This grant was not reviewed by the CFS Special Emphasis Panel. It was first funded in 2016 but NIH did not count it as ME/CFS until FY 2017. Creating this mouse model may have potential applications to human diseases like fibromyalgia, temperormandibular disorder, and ME/CFS, and that's great. But this is basic research, not ME/CFS research. The grant totaled $186,250.
The second unrelated grant went to Dr. Feng Lin to "develop laboratory tasks that can efficiently induce and precisely capture [Central Fatigability] (i.e., CF-manipulation task) in older adults." The study will compare the effects of gambling tasks and traditional tasks in "cognitively healthy older adults without pathological conditions that can produce fatigue symptoms." In other words, the study is focused on the experience of fatigue in healthy older adults. There is no way this grant of $192,448 should be counted towards ME/CFS research.
The third grant is more complicated to sort out. It's an intramural grant to Dr. Kong Chen for the Human Energy and Body Weight Regulation Core. This Core runs the metabolic chambers in the Clinical Care Center, including work done on Dr. Nath's study of ME/CFS. But as the project description states, the Core "currently supports 26 clinical protocols" with its funding. I asked NIH how much of the funding could fairly be allocated to the ME/CFS study. The NIDDK Office of Communications told me that there was no breakdown of how the total funding of $452,823 was allocated across all of the protocols.
What that means is that NIH is claiming that the full amount of the Core's $453,000 was spent on ME/CFS, even though it readily acknowledges that only an unspecified portion of the money was actually spent on the ME/CFS study. It's wrong to claim that $453,000 was spent on ME/CFS when NIH knows this is not the case. Since NIH cannot provide the actual number, I can only guess. I calculated 1/26th of the total and rounded up to $20,823.
How does this happen? Why does NIH count the Light and Lin grants, and the entire Core budget, as ME/CFS funding?
NIH told me that the Research, Condition, and Disease Categorization System determined that the Light and Lin studies were scientifically relevant through its rigorous internal process and text mining. That RCDC process defines categories with associated terms and concepts. Those terms are assigned weights based on their importance or relevance, and then matched to funded projects. When I asked for more information about the terms and weighting used to assign projects to ME/CFS, NIH replied, "The most heavily weighted terms are variants of ME/CFS (e.g., Chronic Fatigue Syndrome, Myalgic Encephalomyelitis). The category also includes less heavily weighted terms, like fatigue, malaise, and fatigue assessment and management."
I think it is likely that Dr. Light's grant on the transgenic mouse model for pain and fatigue was categorized to ME/CFS based on the symptom of fatigue. The same appears to be true for the Lin grant, since it is studying central fatigability. I disagree with that. Dr. Light's grant may prove to be relevant to ME/CFS and/or a number of other disorders. It is important basic research but its applicability in ME/CFS is hypothetical. Dr. Lin's grant is even less relevant, since it is studying a fatiguing task in healthy older adults. Finally, the full funding for the Human Energy Core cannot be fairly allocated to ME/CFS since NIH acknowledges that the budget covered dozens of protocols.
What's the correct calculation of funding?
NIH claims it spent $14,727,730 in 2017. I found an additional $52,675 that was excluded from NIH's project list page, which brings NIH's claimed funding to $14,780,406 $14,778,405. This rounds up to $15 million.
I deducted the funding for the grants to Dr. Light ($186,250) and Dr. Lin ($192,448). I also deducted all but $20,823 of the Human Energy Core's funding ($432,000). These deductions total $810,698.
My calculated total NIH funding for 2017 is $13,969,708 $13,967,707, which rounds up to $14 million.*
In the grand scheme of NIH's overall budget, a difference of $1 million is hardly noticeable. But in ME/CFS research, $1 million is huge. An extra $1 million a year is equivalent to at least two grants, or potentially more.
I believe in giving credit where it is due, but I do not believe that NIH should claim to have spent more than it actually did. And I certainly don't think that advocates should go along with NIH's numbers without verifying their accuracy.
The numbers–and the additional information I received from NIH–show that NIH spent $14 million on ME/CFS research in 2017, not the $15 million they have claimed.
*July 25, 2018: corrected mathematical errors