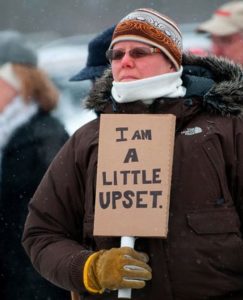 I am suuuppppperrrrr excited for the March for Science this Saturday, April 22nd. I am doing everything humanly possible to attend. I've got extra rest scheduled this week, and a backup ride the day of the March (in case ride #1 falls through). I've got my wheelchair, and hydration, and I'm willing to skip the marching bits in order to attend the rally.
But I need a protest sign!
Recent protests have been a showcase for clever, funny, and poignant signs. I want to show the world what science means to people with ME.
That's where you come in, fellow warriors! Can you help me come up with an awesome sign? Here's what I have come up with so far:
Science > Alternative Facts
Only NIH $ Will Get Me Out Of This Wheelchair (see comment from Jenni)

Cut NIH $ And You Sentence Me To Life In Chair
Science Is Our Salvation
Before NIH Life Expectancy Was Age 50
I Have ME And I Need Science To Live
If you have any ideas for a sign, pop them in the comments. If you have a favorite from my list, pop that in the comments too. And if you want me to march (well, roll actually) on your behalf, tell me in the comments and I'll put your name on the back of my sign.
Edited To Add Suggestions:
Science Rules
Show Me The Science
Science Saves Lives
Only Science Can Help ME/CFS
Science Would Help Me Work Again
Without Science, You Would Be Dead By Now
NIH Funds = Hope
Science Is My Hope For A Cure
Help Me Walk Again By Supporting Science
People With ME At UNREST Until There Is A Cure
Millions Of $ Missing At NIH = Millions Missing From Life
Time Flies When You're Waiting For A Science Miracle
Science M.E. Up!
UNREST Until Science Cures ME!
Make America Smart Again
Cut NIH = Make America Sick Again
What Will Happen To ME With Funding Cuts?
Science Trumps Alternative Facts
Science = Hope
From Where I Sit: SCIENCE MATTERS!
Science = Medicine = NIH Funding
Science is True Independent of Your Belief
NIH Funding = Science = M.E. Cure
I'm marching but I'm not living
Give Me Life, Cure M.E.
Without Science, We Would Still Be Using Leeches
Science Enables or NIH Science Enables
M.E. Disables, Science Enables
Cure ME/CFS, Science Makes Sense
Without Science, My Present Could Be Your Future