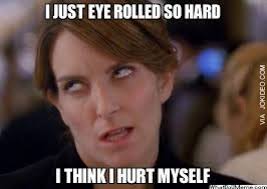 I had a shocking experience at a doctor's office yesterday. It was my first visit to his office for an issue unrelated to ME/CFS. After breezing into the room and making a sarcastic remark about the quality of doctors' notes in my chart, he sat down to review my information. He started with the list of diagnoses.
"Family history of breast cancer . . ." He looked at me. I nodded.
"Chronic fatigue . . . " He looked at me again. "You don't look tired." I just blinked.
"Facial flushing . . . but you don't look flushed." He finished the list. "Look, I just made some of these go away!" he crowed.
"If only you could do that in real life," I retorted.
It has been years since a healthcare provider said "you don't look tired" to me. This may be due to the fact that I have a core of providers who understand ME/CFS, and when I've needed new consultations as issues have emerged, I rely on those core doctors to recommend the new ones. This is the first time where the person recommended to me was on sabbatical, and I had to see the doctor covering for him.
When he said "you don't look tired," I basically froze. I really couldn't believe what I was hearing. I don't expect every doctor to have read the IOM report, or to recognize that comments about looking or feeling tired contribute to stigmatization and trivialization. But this doctor's cavalier and snarky comment that I don't look tired felt like a cold slap in the face.
I tried to banter with him for the rest of the appointment, joking with him and also asking pointed questions. When he asked why I have a cane, I explained that I use it for stability as I get tired and weak and that it also prevents people from insulting me when I use my disabled parking placard. He expressed surprise, so I told him that people have told me that I don't look disabled and it's only an hour afterwards that I come up with the snappy comeback "You don't look stupid." He thought that was hilarious, and apparently failed to make the connection with his own "you don't look tired" comment.
The appointment was unsatisfactory for a number of reasons, but I spent a great deal of time afterwards beating myself up. I kept thinking that I should have pushed back on the "tired" comment. I should have educated him. What if he encounters another patient with CFS on his or her chart? And I felt unheard, stigmatized and insulted.
My husband had a much more succinct reaction. He said, "F*** that guy. It's not your job to educate doctors. He's an idiot and so we'll find you someone else. F*** that guy."
He's right. There's no point in agonizing over this doctor and his ignorance. My responsibility is to myself and my own health. It is not worth the energy to try and educate this doctor, and it probably wouldn't help anyway. This doctor wasn't open to new information coming from a patient like me. He didn't see me as an equal, or someone who might have knowledge that he does not. Better to cut my losses and move on.
For so long, we have born the burden of educating healthcare providers because the institutions that usually do that have failed to put accurate and useful information in their hands. That's one reason why the IOM report recommended that the Department of Health and Human Services revise its educational materials (an effort that is currently underway at CDC).
But it shouldn't be this way. We deserve respect and knowledgeable healthcare providers. We deserve doctors who are willing to learn, and who treat our experiences as valuable data.
So you think I don't look tired? Cue the epic eye roll.