I'm happy to share this guest post from Joe Landson. Man, can I relate to this!
Each of us patients has that one dear relative, friend, or acquaintance – the one who tells us, repeatedly, that we can do anything we set our minds to. He may cite examples of others who have overcome disability. She may use pop psychology jargon, or the homespun wisdom of Dr. Sw— um, Phil. And being the good people we are, we want to hold this lovely person tight – preferably with both hands, around his or her throat. (Just until the haranguing stops, of course.)
Whenever I confront advice like this, I remember a story I saw on television decades ago that somehow stuck with me. It was about a man who believed he could do anything he set out to do. (And he did.) This guy had two hobbies: marksmanship and wildlife photography. No, there were no telephoto lenses from a safe distance for him; he used a cheap, zoom-less film camera to photograph wild animals from a few feet away. Of course, he knew his hobby had some associated risk, so he always carried a powerful handgun on his photo trips.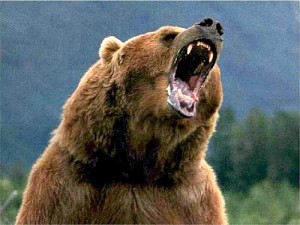 One day, this man set out to capture images of the most elusive and dangerous quarry in North America – a mama grizzly bear with cubs. And he succeeded. We know he succeeded because the pictures survived. (And beautiful close-up pictures they were.) The search party recovered the film from his camera, found more-or-less intact on the forest floor. A short distance away from the camera, they also found his pistol – fully loaded, hammer back, unfired. And the searchers found him. I forget if he was near the camera, or near the unfired magnum revolver. Or perhaps a bit of both?
Of course, the moral of this story is that our well-meaning friends are right, or at least half-right: You can indeed do anything you set your mind to. You can do it once. In the photographer's case, he never did anything again. In our case, we face days, weeks, and months of recovery from most anything we do.
Some of us find this disease – wait for it – unbearable. Yet each of us probably tries to do something within our limits, while surrounded (or abandoned) by folks who really don't understand what it costs us. On any given day, we can look and act healthy; but we can't count on faking healthy the next day, let alone day after day. Our days are not replicable.
The miracle of Laura Hillenbrand is not that she wrote a brilliant, critically and commercially successful work of non-fiction. The miracle is that she did it twice, and lived to tell about it. (At this moment, Dear Friend is gearing up to ask why we can't all be like Laura Hillenbrand.) However, just as she is not our bitch, Ms. Hillenbrand is not our cookie-cutter model for self-improvement.
The only limits we can set are our own, each of us, ourselves. If government doesn't like that answer, then they can fund research of our disease properly. If organized medicine doesn't like it, then it needs to adopt us into a specialty, and take responsibility for standardizing and organizing research inquiry into us. (And no, the shoddy PACE trial doesn't count.) If our Dear Friends don't like it, then they can break open their piggy banks, and fund development of an objective medical test that measures, reliably and exactly, how disabled we are. (The two-day exercise test arguably does this, but at the cost of the weeks of recovery we are trying to avoid.)
Until these things happen, we are each of us alone in the woods, facing our own grizzly. Some days, playing dead is the only play there is.