After I read How To Wake Up last summer, Toni Bernhard was kind enough to answer some of my questions about the book and the Buddhist practices she suggests. You can read the full text of our conversation here. This post has been in the works for many months, and I have felt very guilty about the delay. But as it happens, the beginning of a new year is the perfect time for me to reflect and refocus. I'm happy to share Toni's wisdom with you today.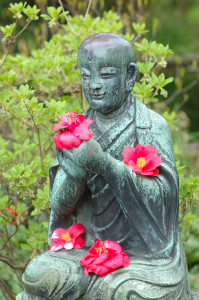 Most of the plans I had for my life were wiped away like marks on a dry erase board when I got sick in 1994. Career? Children? Even grocery shopping? Gone, all gone. But I don't want to be a person who always complains about what I can't do or how sick I feel. One of my greatest struggles is to find a way to be content, even in the face of this suffering. I have only succeeded in doing so because of my spiritual journey.
One of the things I love (and sometimes hate) about spirituality and personal growth is that there is always more to learn. I am a Baha'i, but I draw inspiration and strength from many religions and spiritual traditions. Toni Bernhard's books, How to Be Sick and How to Wake Up, have taught me about a Buddhist perspective on coping with suffering. I consider Toni to be one of my Teachers, and her lessons on detachment and impermanence have really helped me.
Many days, I long for escape from my body, this illness, my disability, my confinement in my home, my isolation. In the early years of being sick, I watched a lot of television – A LOT. I was too sick to read or write much. It was all I could do to pay the bills once a week and cook a little bit. Ignorant about ME/CFS and post-exertional malaise (it was the mid to late 1990's), I was in a permanent push-crash cycle. All I wanted was out. Even now, when my cognitive function is somewhat improved and aggressive pacing/activity management has evened out my functionality, I still want out.
Toni's second book begins with the necessity of waking up, of engaging life fully as it is. But why would I want to do that? I asked Toni if it was easier to not wake up to the pain in life. Some days, I think ignorance is bliss and distraction is divine. But Toni told me, "It depends on what you mean by 'not being awake.' To me, not being awake is a source of pain in my life in the form of mental suffering. By that I mean that one aspect of waking up is waking up to the realities of the human condition, so that we're not deluded about what to expect in life."
This, I understand. When I pretend my illness isn't happening, either by pushing through my symptoms or by distracting myself, it actually doesn't reduce my suffering. I might feel better in the moment of denial, but it's impossible to maintain indefinitely. Sooner or later, the truth smacks everyone upside the head. I can't pretend that I'm not disabled. Toni is right: when reality pushes through the flimsy wall of denial, it hurts more. Not only because my denial has probably led to a crash or other negative consequence, but because I've been fooling myself. That causes more pain.
But facing life as it really is in the moment, whether it's good or bad, is not enough. We not only have to be present with whatever is happening, we need to recognize that we can't have everything we want. Being dissatisfied with the way things are only creates more suffering. And even if we get what we want, it will be impermanent and change will come again. I could regain my health tomorrow, but I would still face illness and death again in the future.
One of the things I've learned from Toni is "weather practice." In her first book, Toni describes seeing pain (physical, emotional, spiritual) as impermanent like the weather. No matter what I am feeling, it will pass. It will change. Knowing that pain and suffering will give way to beauty and joy makes it easier to bear the pain. And knowing that joy will give way to pain helps me stay detached from the high, so that my heart doesn't break when it ends. There is a quote from the Baha'i Writings that I love:
Grieve thou not over the troubles and hardships of this nether world, nor be thou glad in times of ease and comfort, for both shall pass away. This present life is even as a swelling wave, or a mirage, or drifting shadows. – Abdu'l-Baha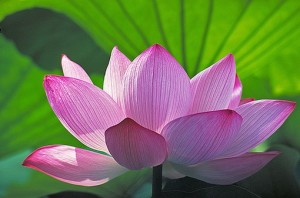 One aspect of understanding impermanence and detachment has really troubled me. If everything is impermanent, and if wishing things were different causes pain, should we even try to make positive change? Certainly ME/CFS advocates want something different, as in all social justice movements. Many types of change or advancement in our personal lives comes from a desire for something more, something better. Does detachment mean giving up on achieving change? But Toni explained it to me this way:
Good things do come out of wholesome desires, such as the desire to be a civil rights or health advocate. The type of desire that the Buddha was cautioning us against is tanha. It's an intense self-focused desire that's experienced as a need. It leads us to think that if only we could get what we want (or get rid of what we don't want), we'll find lasting happiness. But the universal law of impermanence dictates that nothing lasts forever . . .

Second, the wholesome desires I mentioned—those based on good intentions, such as care and compassion for others—can also become a source of dissatisfaction and suffering if we become attached to the results of our actions. This mean, do your advocacy work—with all your heart—but know that you may or may not succeed in your efforts. That wholesome desire can turn into the painful desire of tanha when you begin to feel that you need to get the results you want.
I have experienced the difference between wholesome desire for positive change and the painful desire of tanha in the last few months. I am passionate about doing whatever I can to contribute to a positive outcome in the IOM case definition study. I want such an outcome for all ME/CFS patients, not just myself. But I have sometimes fallen into the trap of believing that I will never be happy if the IOM process fails us. I think about what a bad result would do to us, and it feels like an abyss that I cannot see past. These thoughts cause me deep despair, and then the advocacy work becomes a source of true suffering. I have to act with all my heart, as Toni says, but also be personally prepared for (and a bit detached from) failure. That is the only way I have found to prevent this controversy from completely crushing me.
But I don't control my mind all that well. My thoughts run all over the place, and it is far from orderly or sedate. There is a fantastic quote in How To Wake Up that captures this brilliantly. Toni quotes Bhante Gunaratana as saying, "Somewhere in this process, you will come face to face with the sudden and shocking realization that you are completely crazy. Your mind is a shrieking, gibbering madhouse on wheels barreling pell-mell down the hill, utterly out of control and hopeless. No problem."
I laughed out loud when I read this the first time, because this is EXACTLY what my brain feels like. And as Toni explains, there is tremendous peace and relief in that realization:
He's pointing to the fact that we can't control what thoughts and emotions pop into our minds. Knowing this is tremendously helpful to me because it means that the key to peace and well-being is not controlling what thoughts and emotions arise, but learning to respond skillfully to them. . . .

The last step in that process is to "let it be" which, for me, is the best way to handle this crazy mind. We let it be by acknowledging whatever we're feeling, without judgment or aversion. Then we patiently wait for the stressful thoughts and emotions to yield to the universal law of impermanence and pass out of our minds, while evoking compassion for ourselves over any suffering they're giving rise to.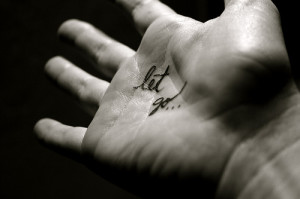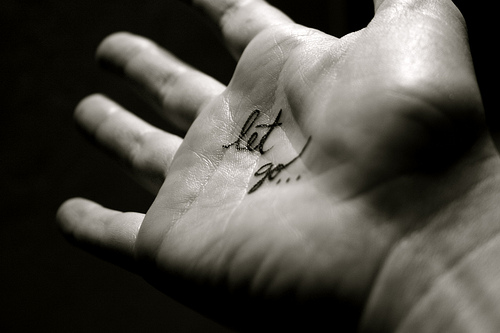 Toni has helped me realize "we control a lot less than we think we do in life. When we can see this and accept it, then we're better able to ride life's ups and downs without being tossed around so much." That sense of calm, peace and well-being is what I yearn for. Toni, in her kind and gentle way, has taught me that this is a possibility in each moment, and then the next, and the next.
I cannot force my life to conform to what I want. In reality, I have never been able to do that. All those plans I had that were wiped away by ME/CFS? There is no certainty that I would have ever achieved them anyway. In fact, the nature of existence is that at least some of them would not have come to pass. What I never grasped before reading Toni's books is that, to quote the movies, there is no spoon. I cannot bend life to my whims, therefore it is I who must bend. Bend, and never break. Toni says:
Understanding that my dissatisfaction with my life can be traced to not getting what I want has helped me tremendously. I realized that I'm left with a choice—spend my days in frustration and dissatisfaction (dukkha) because I can't get what I want (my health restored) or accept that I'm sick and that, although I'm doing my best to recover, I might not. In fact, I may be sick the rest of my life. I feel much better mentally when I'm able to give up the constant desire to get well. One reason that I feel much better is that it frees me to look around and see what life has to offer to me, even with this illness.
2013 was a brutal year for me. Our family dealt with multiple illnesses and surgeries, and my closest friends faced a number of difficulties. We joked that no one should want to be near us because we seemed to carry such a cloud of bad luck. But instead of seeing the year as the worst of my life, I've tried to reframe it as a year of miracles. We had many close calls, but my family is intact and on the mend. I have so much to be grateful for, even today when I am confined to bed for the third straight day this week.
Toni has taught me to accept the reality of whatever is happening, to detach from unhealthy desire, and to recognize that even the worst year of my life was not permanent. Being able to separate myself from my burning wants and do-not-wants, even for a moment, brings relief. It helps me be compassionate towards my body, working so hard to keep me going. It buffers the pain of disappointment and fear, and reminds me to focus on what matters most. And like every spiritual practice, it takes practice. I must detach, then detach again, then remind myself to detach again. Trying to govern my completely crazy mind is frustrating, but also an opportunity for hope. If I cannot detach in this moment, I can try again in the next.