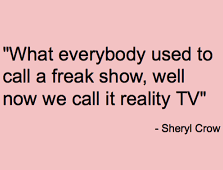 Many people in the chronic disease community were anticipating Afflicted, the Netflix series about seven people with poorly understood illnesses. In light of Jamison Hill's appearance in the show, the ME community hoped to build on the success of Unrest and continue raising awareness of the disease.
But Afflicted turned out to be more than a disappointment, and worse than most people imagined.
After it premiered earlier this month, controversy erupted over the show's portrayal of the featured illnesses and patients. On August 19, most of the main subjects of the series spoke out in a shared statement, saying that their stories were actively manipulated to frame their conditions as psychosomatic or psychiatric disorders.
Afflicted's lie can be summarized with one reviewer's description of the show as a "human safari." The show does not present the participants' stories honestly. Everything–from the experts quoted to the way interviews and scenes were edited–pushes the viewer to question whether the participants have physical diseases or are mentally ill.
The format of unstructured reality TV follows real people who make independent decisions about what they are doing. Their voluntary and enthusiastic participation is a sufficient guard against exploitation, at least according to a 2011 quote from the executive producer of Afflicted. Since it is unscripted and shows real people reacting to real situations, the show appears to be a docuseries: literally, a documentary aired in a series of episodes. But that is not Afflicted.
Afflicted is a modern day freak show that has been disguised as a documentary.
The producers of Afflicted have manipulated the stories for a not-so-subtle wink shared with the audience. Hand over mouth, they point and then whisper, "See that?" They succeed in putting the subjects on display for the entertainment of others, as is clear from viewers' reactions. The show's hashtag on Twitter was a stream of horrible comments by viewers who referred to the patients as "whacked out morons" or "you crazy hypochondriac," and recommended the show for "a good laugh."
Afflicted filmed humans, suffering. Emotionally well-adjusted people do not take pleasure in other people's pain. Few people would watch a voyeuristic entertainment show about people struggling with cancer. As documentary, as education, as stories about love and loss—yes. As a comedy based on the misfortune of others—not so much. So why does Afflicted's audience derive so much satisfaction from watching the show, and then crowing about "those people" on social media?
Afflicted draws on our culture's prejudice against mental illness. One viewer said on Twitter, "You can smell the mental illness/ptsd within the first four minutes." Even if that were true, why would that mean those people deserve the audience's derision and dismissal? The subjects of the show are human beings whose lives have been devastated by illness. It doesn't matter what the illness is, or what caused it, or whether you believe them. Even if every single subject of the series is in fact suffering from a mental illness and not a physical illness, they are still suffering. People with emotional and psychiatric problems are just as worthy of compassion and dignity as those with physical illnesses.
Yet Afflicted does not frame its story to elicit compassion from the audience. Worse, it plays on our innate tribalism.
Western cultures have found entertainment in the exhibition of people with rare or unusual physical characteristics for centuries. People with hypertrichosis, microcephaly, gigantism, and achondroplasia are just a few examples of the types of so-called "freaks" put on display. With advancement in medicine (and ethics), it became less socially acceptable to publicly exploit people in this way.
Now, instead of going to a circus to see the freaks, you can stay home and pay Netflix to bring them into your living room. You can gawk at them in private. Yet make no mistake: you are gawking. Their daily struggle has been served up to you, but not for your education, or to share their human experiences, or build your compassion. Afflicted wants you to speculate about their personal lives and mental health. Instead of telling the story to open hearts, the story becomes the vehicle for Othering. "Look," the show says to the audience, "you are not like them."
Except some of us are. And every Afflicted viewer who learns to point and titter, instead of listen and understand, will encounter us in real life (if they haven't already). What will those viewers say and do when they meet us? What has Afflicted taught them to do?
What happens to us, after the Afflicted freak show?