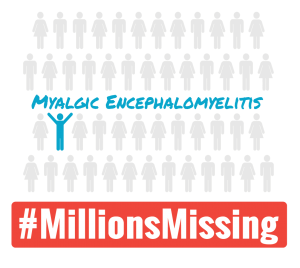 For as long as I have been an ME/CFS advocate, I have heard people say we should protest/take to the streets/be more like ACT UP. But for the most part, demonstrations have been small (even one woman) shows. That is not to say these actions have not been worthwhile or important. They've been both.
But #MillionsMissing is something new. Organized by MEAction, the #MillionsMissing project will take place in multiple cities on May 25, 2016, with a coordinated campaign of demonstrations and demands.
The #MillionsMissing demands are straightforward:
Funding and program investments commensurate with the disease burden
Clinical trials to secure medical treatments for ME/CFS
Replacement of misinformation with accurate medical education and clinical guidelines
HHS leadership, oversight and a serious commitment to urgently address ME/CFS
These are goals that our entire community can get behind. Action on these four fronts is desperately needed, and this is the only path forward to restore the millions of people missing from their careers, schools, social lives and families due to this debilitating disease.
I cannot attend a protest in person, but I have sent my favorite pair of pumps from my days working in a law office in my place. I miss my career, even twenty-one years after I lost it to this disease. I will also be participating in the virtual protest on May 25th. I sincerely hope you will join me in whatever capacity you can.