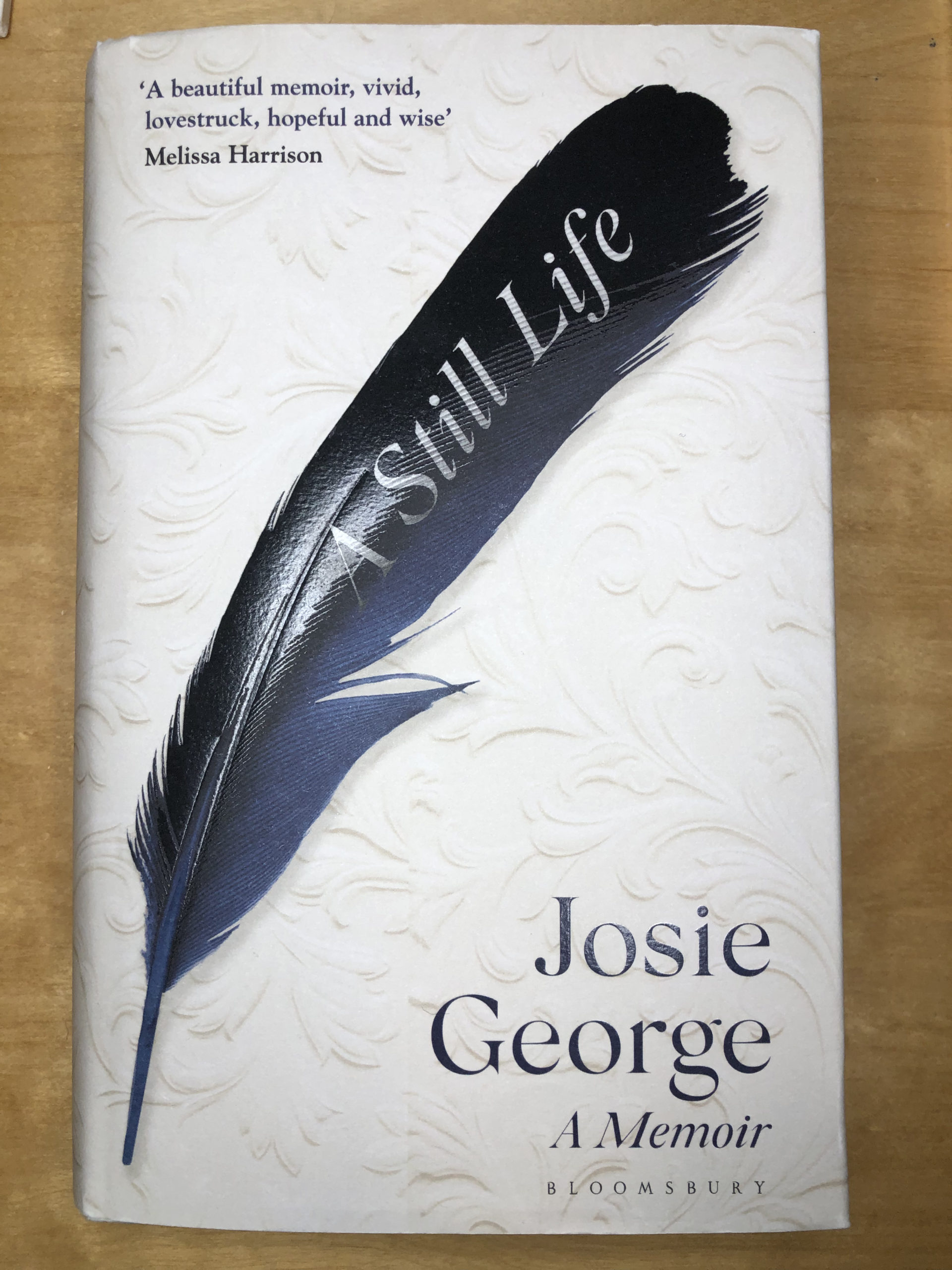 Today is #MillionsMissing, a day to raise awareness and make people with ME visible to the world. As part of the event, people with ME are sharing their stories on social media but instead of sharing mine I'm going to tell you about someone else's story.
Josie George published her memoir A Still Life earlier this year. I've followed Josie's writing in various forms for years, and she is extraordinarily gifted. In the book, Josie tells the story of her life as a disabled woman and the ways her illness has shaped and defined her. But this is not a typical illness memoir, in part because Josie is not a typical writer (if that even exists). A Still Life is both vulnerable and strong, and so beautiful that it took my breath away. #MillionsMissing is about being visible, and Josie's book is a gorgeous contribution to that goal.
Josie has been sick since childhood and her illness has never been definitively diagnosed, although it's been named as ME, POTS, and various functional disorders. She writes, "What I experience has been called many things over the years by different doctors at different times, depending on their specialty, what tests they run, and how they view bodies like mine." Over the course of her life, this has been a source of shame and confusion for Josie, and in the end she has managed on her own like most people with ME must do.
A Still Life is a single narrative made of two different strands, told in small bites back and forth. One strand follows Josie as she grows up, marries and has a son, then moves on from the marriage, always coping with a relapsing and remitting course of illness that interrupts her life for years at a time. The other strand follows her through the year 2018 as she experiences the heartbreak and beauty of her quiet life and the unexpected joy of falling in love. Josie somehow manages to ply these two timelines together in a way that feels natural and completely whole, despite the jumps backwards and forwards in time.
Josie notices things with intention, and then offers them to us with wonder and delight. Making tea is an act of hope, and there is glory in reading a new book. She shares a small stone sent to her by a friend, ice forming on sidewalk puddles, and the feel of her son's hair under her hand. Josie brings us along as she takes her son to school, and goes to her community center where an old man "wears a jumper the colour of old acorns and just stirred gravy." Her illness limits her world to a very small sphere around her house, but that world is big and filled with wonders: "Magic is simply seeing clearly and once you know that, even the mundane life you have been dealt—one of grotty side-streets, not enchanted islands—can feel like a scholarship at the school that you've always dreamed of."
Josie opens her disabled life and all its complexity to the reader as well. She shares the practical reality of navigating the world in a wheelchair, and how she has learned to manage her faints so as not to alarm her son. There's no inspiration porn or requests for sympathy. Josie is a full person with a full life, with all the joys and struggles of the type everyone experiences.
While Josie casually says, "my body just doesn't work the way it should," she also describes what it is like to live in that body with unflinching honesty. Her description of post-exertional malaise is one of the best I have ever read, and it's worth quoting at length:
Feeling your own nervous system overload is a sensation I will never get used to. It seems to come when I've done too much, although what counts as 'much' may be laughable, unpredictable. . . The world begins to tip, my vision to black and blur. I duck at the glare of the landing light, my eyes unable to adjust to light quickly, if at all. I begin to feel sounds, not hear them, like tuning forks held against me. . . . I begin to feel faint as I move, slumping until I am in a position where I can safely come and go like a tide, my head on the landing carpet, yesterday's washing on the ceiling airer high above me. I feel it in my ears, my mouth, my head, the back of my neck. Fatigue comes in a wave and staying awake, keeping myself conscious, becomes painful. Somewhere under the weight of it, there comes an awareness that I've nodded off right there on the floor. I am glad my son isn't home.
There are so many passages like this, and each one lands with such veracity that even a healthy person could grasp some of what this life is like.
Over the course of her life, Josie learned that the long interruptions when her illness became severe were simply part of her life and opportunities to learn something else. She has found joy and wonder in things that others discard or dismiss or fear. Even though doctors have not found a single explanation for her illness, Josie no longer doubts her experience or whether she has tried hard enough. Her meditations on grief, pain, love, motherhood, and fear offer extraordinary perspective for anyone.
Josie is determined not to be missing, not from her own life and not from the world. She lays her life bare on the page with a purpose:
Usually, when you are unwell, people expect one of two stories: either you get better—you beat it—or you get worse and die. Stories of everyday living and undramatic, sustained existence, stories that don't end with cures or tragic climaxes but that are made up of slow, persistent continuation as you learn and change—stories about what happens then—they may be harder to tell, but I believe they're important too. I believe we need to tell more of them.
Josie knows that her story–our stories–need to be told and heard. She wrote this book to tell her own story, but she did not forget about us. She closes her Acknowledgements with this:
I end this thinking of the Millions Missing and many others who don't have the energy or opportunity to tell their own story. I am so thankful I was able to. It is all too easy for us to disappear. For those isolated, housebound, or bedbound by illness, please know that you are loved and that you matter. I am with you.
A Still Life is Josie's graceful, glorious antidote to being Missing. This book will make you feel visible, and it is without question the best book I have read this year. A Still Life is widely available in the UK, and is now available on Amazon in the US from some sellers.