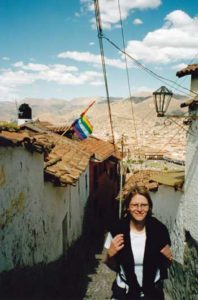 "Take care of each other."
Those were the closing words in Anne Ortegren's suicide letter. Anne's death came as a shock to many of us, myself included. Anne was a friend and long-time supporter of my work. She made a final request to me (and others) to publish her last letter. I took a long time to write this post because I wanted to do right by Anne, but also do right by my fellow people with ME.
Let's start here: If you are in crisis, please reach out for help. In the United States, consider reaching out to the National Suicide Prevention Lifeline: 1-800-273-8255 or the Crisis Text Line: text START to 741-741. International readers can find country-specific resources in this list of crisis lines organized by country.
Anne is not the first person with ME to end her life, and there are far too many who went before her. We all feel the blow when this happens. Yet, most of us are not surprised that this is an issue for our community, and research backs us up on that. A study from last year found that there was an increased risk of suicide in 17 of the 19 health conditions examined. Beyond the risk associated with being sick, author Johann Hari recently wrote, "if a community feels it has no control over the big decisions affecting it, the suicide rate will shoot up." Between the fact that ME is a serious disease and the fact that people with ME feel they have no control, it is not at all surprising that we are at an increased risk for suicide.
We need hope, and I see two different kinds of hope. First, there is hope at the institutional or systems level. In her final letter, Anne made a plea for this:
To allow ME/CFS patients some hope on the horizon, key people in all countries must step up and act. . . . I want a number of people from these agencies, and equivalent agencies in Sweden and all other countries, to stand up and take responsibility. To say: "ME! I am going to change things because that is my job."
There is a second kind of hope, and that is the personal or private sense of hope everyone needs regardless of health status. It is the hope that, no matter how awful things are in one moment, there is the possibility that another moment can be better. Bruce Campbell calls this "realistic hope," a combination of "acceptance and belief that improvement is possible." While Campbell is referring to improvement in physical health, I interpret the hope of improvement more broadly.
One lesson I learned from Toni Bernhard's books is impermanence. No matter how I feel in one moment, it will not always be so. This is a comfort to me when I am in pain, whether it be physical or emotional or spiritual. Toni calls this "weather practice," and I have relied upon it to get through the last three years. In the depths of my grieving for my Mom, and my fear about my husband's health, I have drawn comfort from the reminder that I will not always feel as bad as I do in a particular moment. And when the change comes, and I experience something wonderful, I embrace it as a gift (knowing that it too will not be permanent).
This is the essence of hope: that regardless of the pile of shit you are in right now, you believe there is the possibility of a moment of beauty or love or relief or comfort, even if you cannot catch a glimmer of that moment right now. I wish it were easy to sustain this kind of hope, but it is not. We need supportive people in our lives. We need a basic level of economic security and healthcare. We need to find meaning, even in our suffering.
I keep coming back to how Anne closed her letter: "Take care of each other." How can we do that when, by its very nature, ME restricts our ability to take action and interact with the world? Those of us who are able to advocate for systemic change can do so, as Anne did. But I think Anne was also asking us to take care of one another in an individual way. Here are my suggestions, as a starting point.
We can take care of ourselves. Self-care is an enormous topic unto itself, and it is cliche to say that we have to take care of ourselves in order to take care of others. That doesn't change how important it is, though. Anne wrote about the coping techniques that helped her. I know that if I consistently took her advice, I would be in a better place physically and emotionally.
We can be honest, good and bad. It is important to be honest about how we feel. Sometimes, expressing our pain can be a relief, especially when people respond with support. Sharing good news is great too. And sometimes, being silly or outrageous can lift your own and others' spirits.
We can listen. I find myself skimming people's lives on social media. Read a status, hit the like button, move on. It is better to slow down, and hear what someone really wants or needs to say. Maybe you can do this through an email or phone call, or maybe it means reading a social media post more carefully. Maybe it means asking a question. Regardless of the communication method, we can give each other the gift of listening.
We can believe each other. How many times have you read a comment from a person with ME about a treatment they tried or something they did and thought to yourself, "That's not true. That treatment worked/didn't work for me. I can/can't do that thing they did." I've done it, and people have done that to me. But measuring other people by our own personal, individual yardsticks rarely works out well for anyone. Instead, I try to hear the comment as being true for the person who made it. We're not a collective judge and jury. We're a community of people who happen to share an awful disease. It actually doesn't matter (on the person-to-person level) if someone takes an approach that doesn't fit mine. I choose to believe their experiences are true, and I appreciate it when others believe me.
We can encourage each other. Anne was unfailingly kind and encouraging to me. As I reviewed the messages we had exchanged over the years, I was struck by how many times Anne reminded me that my work was important and that it had an impact. She wanted me to keep going. A few years ago, she wrote to me: "Just know that – if you do have the energy and possibility to keep on going – you and what you are doing are important to a huge number of people. Those you hear from, like me – we are only the inner circle. The effect then goes on to many, many layers beyond that." These messages meant so much to me when she sent them, and mean more to me now. I will strive to be encouraging to others as well, both in advocacy and in friendships.
We can reach out. Did someone cross your mind today? Tell them! I am always so grateful when someone messages me out of the blue with a virtual hug or funny meme. My friend Barb surprises me with occasional pictures of her pet lizard, to which I usually respond "KITTY!" Joey and I sometimes end up conducting conversations exclusively in gifs. Last month, I received a most generous and unexpected gift from my new friend Nancy. The reality is that we are so isolated by ME. A surprise "I thought of you today" feels really good! Pro tip: it feels just as good to surprise someone as it does to receive the surprise.
At the end of her life, Anne wrote: "If, hypothetically, the physical suffering could be taken out of the equation, I would have been able to live contentedly even though my life continued to be restricted to my small apartment and include very little activity. Unlike most people I could find such a tiny life bearable and even happy." But Anne's life was not tiny. She achieved more within her restricted circumstances than most people could. I am so sad that she is gone. Everyone who loved Anne is in my thoughts, and I hope that people with ME will remember her. She shared so much of her "tiny" life with us, and tried to make our lives better.
What I am slowly coming to understand is that our lives are beautiful, painful, scary, comforting, and loving. The truth is that no one is spared suffering. The truth is that our lives, whether tiny or large, are a mixture of pain, pleasure, and monotony. My friend Josie writes about her "small, slow life that covers an area of less than a square mile" too, and she says this better than I ever could:
We are very rarely prepared to let anything be boring, to be ordinary. How easy it is instead to shade our experiences, to plump them, maybe in the hope that today or one day soon, they will better prove how much we overcame, how hard we tried, how deeply we lived, and how much we deserve care and love and success and all the rest. And who can blame us: we are all just trying to get by and life can be so horribly hard. . . .

The sparrows in the beach hedge call, "Can we not be enough? Can we not be enough meaning for your life today?" and the twist of my son's hair at the nape of his neck says the same, and I want to say yes, yes, yes, you are enough today and every day and this is a good life.
My hope for all of us is that we can let our lives be tiny or boring sometimes, and that we also realize that each of us is not tiny at all. Like Anne, we live large, and we leave a mark.