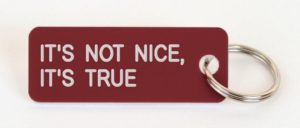 My parents used to tell me, "If you can't say something nice, then don't say anything at all." But they also raised me to tell the truth, especially when speaking to authority. I have to say some true things today, but I will be straight up and tell you that these things are not nice.
The starting point of all advocacy is to demand that things be done differently, and first and foremost that requires telling the truth. What varies within social movements is the ways people tell the truth, ranging from polite to confrontational. Not everyone who wants to protect the Affordable Care Act is involved in ADAPT. Not everyone who wants a cure for HIV/AIDS is a member of ACT UP. Very few ME activists are able or willing to conduct a public hunger strike.
Over the course of my advocacy career, I have not wavered from the truth but I have varied the degree of niceness with which I've spoken that truth. I am very eager to applaud good news coming from the government but if I only told the nice truths, you would not hear from me very often. Yet I don't roll out my accountability engine every single time that someone in power says something problematic. I make judgment calls about whether something is insignificant and unworthy of comment, or whether it seems insignificant but is actually important for you to hear.
Today, I am telling you the truth about one of those seemingly insignificant comments that actually speaks volumes about NIH attitudes.
Dr. Avindra Nath is the Principal Investigator of the NIH Intramural Study on ME/CFS. This study is a very deep dive into the biology of ME, and we have needed such a study for decades. Subjects will spend several weeks at NIH, and will go through every possible test for physiological abnormalities. Further work will be done in the lab, conducting experiments with samples. It is a very rigorous study.
Dr. Nath gave a presentation about the study at the September 2017 UK CFS/ME Research Collaborative meeting.* The presentation described the NIH study in detail, and I strongly recommend watching the video in order to understand it. I want to talk about some of the comments Dr. Nath made that were not about the study per se, but about people with ME.
After describing the things that led to the study (including Brian Vastag's seminal open letter to Dr. Collins), Dr. Nath mentions the ME Advocacy petition against the study (~7:00 in the video). He says he "learned a lot" through that experience, and then summarized the various actions NIH has taken on a slide titled: "To gain the confidence of the ME/CFS community". In addition to holding internal seminars and periodic calls with the ME community, Dr. Nath said that they understood the fears of the community. After mentioning our fears of not being taken seriously or being classified as having mental illness, Dr. Nath commented on patients' fears of a government conspiracy (9:35 in the video). He pointed out that NIH scientists are paid by the government, but "we're not some government conspirators." Dr. Nath did not characterize how many people he thinks ascribe to conspiracy theories, but he must think it is a significant number if it was important enough to mention in his presentation.
As is the case with most stereotypes, there is a kernel of truth in this. There certainly are, and have always been, people who believe in conspiracy theories. They believe that particular research has been suppressed, or that health insurance companies are influencing science to avoid paying for treatments, or that the government is intentionally under-funding and under-studying ME for nefarious reasons. But to imply that a significant proportion of the ME community believes these things is wrong. In fact, the ME community already proved its collective intelligence in the investigation of the PACE trial. It was people with ME and their allies who labored for years to uncover the truth about PACE-Gate. The advocates doing that work have been called "vexatious," "militant," and conspiracy theorists. But it turns out: we were right. It is past time for NIH to drop this stereotype, and recognize that people with ME are like every other group of advocates: the majority are smart, savvy, and reasonable people, and the actual conspiracy theorists are a tiny minority.
At the end of his presentation, Dr. Nath acknowledged the work of his team on the NIH study. Check out how he referred to his team: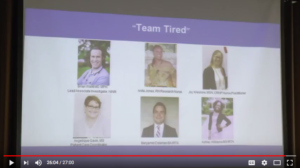 TEAM TIRED.
I mean . . . seriously?????????
Look, I've been around academics my entire life. My Dad has a well-earned reputation of making silly jokes in his presentations and lectures. I get it. Scientists are, frequently, goofy nerds.
But this is just flat out tone deaf. Is Dr. Nath saying his team is tired from working on the study, or tired of the study subjects? Or that we, the research subjects, are tired? Maybe this is just a cute inside joke that Dr. Nath thought he could share with the conference audience.
Perhaps Dr. Nath is unaware that there is a long history of government scientists joking about people with ME (such as this news report from 1996 at minute 4:36 and 7:10). Perhaps no one on the communications team has briefed Dr. Nath on the flawed framework adopted in the 1980s and 1990s by NIH scientist Dr. Stephen Straus. I suppose it is possible that Dr. Nath is completely ignorant of how the word "tired" has been thrown in the face of every single person with ME, including myself, to minimize our disease.
If Dr. Nath is completely unaware that people – including government scientists – have used the word "tired" to belittle, demean, and dismiss people with ME, then the NIH communications team needs to get on that and educate the man. To be honest, though, I doubt this is the case. After the epic fallout over controversial team leader Dr. Brian Walitt's lecture invitation to "CFS" denialist Dr. Edward Shorter, how is it possible that anyone working on ME at NIH is still ignorant of this history? How is it possible that – after every policy, advocacy, and scientific development of the last three years alone – anyone in this landscape thinks there is something funny about this disease? Or that "tired" is an adequate description of what people with ME endure?
Or maybe this is standard practice at NIH to belittle a disease and the afflicted with cute titles? Perhaps the National Heart, Lung, and Blood Institute has a "Team Wheezy" working on asthma? Did I miss the memo about a National Institute of Neurological Diseases and Stroke narcolepsy study being conducted by "Team Dozey"?
I know what team I'm on. It may not be nice, but it is most definitely true: I am on Team Tired Of This Shit.
NIH must conduct whatever communications and sensitivity training is necessary to obliterate this kind of talk from the ME landscape. NIH, as an institution and as a collection of individuals, needs to correct its orientation towards this disease. ME is a serious disease that costs our economy billions, that confines people to their homes or beds for decades, and that ends in suicide for too many. And while our lives have burned, NIH has fiddled around instead of investing the research dollars that the director of the National Institute of Neurological Diseases and Stroke ADMITTED are required.
If Dr. Nath and NIH genuinely want to gain the confidence of the ME community, then it is time to cut the crap and get serious. It is time to treat people with ME with respect and decency at all times.
The truth is: You can joke about it after you have actually produced results that help us.
*Background: The CMRC launched in 2013, and has recently come under fire from journalist David Tuller. The CMRC Executive Board's Vice Chair is Dr. Esther Crawley, who publicly accused Tuller of writing "libelous blogs." When Tuller wrote to the CMRC about this, the Board expressed full support for Dr. Crawley.