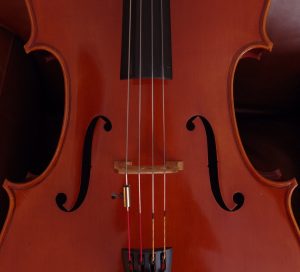 My Mom played the cello every day, even while enduring chemotherapy. Her last lesson was less than two months before she died. Mom loved the cello, but I never really understood her dedication. Even when I took piano lessons as a kid, I didn't feel much affection for the act of playing an instrument. I've always loved cello music, but not the way Mom did.
After she died, I took up Mom's cello. I wasn't confident that my sick body could sustain the effort of playing an instrument. To be honest, I only decided to try lessons because I wasn't ready for the cello to be sold and leave the family. But through coincidence and good fortune, I found Krysta Fogel, a cello teacher who was perfectly suited to finding a way for me to play without pain. Or at least without pain until my fingers crack and bleed.
Oh yes, my fingers bleed. I bleed because I have fallen in love with the cello, and the only thing that stops me from playing is exhaustion and pain. How could I not love an instrument when "to play it you must embrace it, and its resonating chamber rests upon your heart." I often find myself resting my left cheek on the tuning pegs as I practice.
I feel deeply connected to Mom when I play her cello. As my arms wrap around the instrument, it is like embracing her again. Sometimes I have actually hugged the cello and pretended it was her. I have all of her sheet music, and I love finding her pencil marks. Sometimes it's just a check mark or something circled; sometimes it is the date in her handwriting. It is incredible to practice a Suzuki exercise, and know that she played it in December 2003.
But playing the cello has also made me feel her loss more acutely. I want so desperately to talk to her about it that even my teeth hurt. Did she know of Jacqueline du Pre? Why did she prefer Yo-Yo Ma's version of the Bach Cello Suites to Pablo Casals's definitive recording? What was her favorite piece to play? How did she learn to play double stops? What would she think about my being the cellist great granddaughter of Gregor Piatagorsky? And what was her own teacher-pupil cellist lineage?
Last week, our brother-from-another-mother asked me if I had ever heard of cellist Zoe Keating. When I said no, he recommended her solo albums. This friend does not recommend things lightly, so I immediately bought her music. I didn't make it past the second track on her album Into The Trees because I was weeping so hard.
Keating records and loops her music as she plays to create an entire symphony of sound with just her cello. I can't describe the song "Escape Artist;" you just have to listen to and watch the video. I feel like Keating spun that song from the fibers of my soul. Asking you to listen to it is one of the purest forms of self-expression I have. That song captures an essence of me that I did not know was there.
The last two years have been filled with loss, near misses, worry, conflict, loneliness, anger, and depletion. There have been days when I have wanted to disappear into a blanket fort and never come out, and I discovered the Wall of Nope. Yet these years have also contained strength, connection, forgiveness, love, learning, and perhaps even the beginning of a miracle. For every reason I've had to quit, there have been at least two reasons to keep going. I am thoroughly blessed and surrounded by family and friends who  will never let me fall. I may be covered in scratches, bruises, skinned knees, and road rash, but by everything that is sacred I am still here.
In the raw pain of self-discovery as I listened to "Escape Artist," I realized this is another reason to stay alive. A random recommendation from a friend led to this profound and unexpected experience. There is always something new to learn. One human life is not long enough to discover all that is beautiful and interesting in the world. And the next wonderful thing may be completely unexpected; in fact, it probably will be. I finally understand why Mom played this cello until the final days of her life. Even on my lowest day, there is someone I love, and music I love, and a path into the trees.