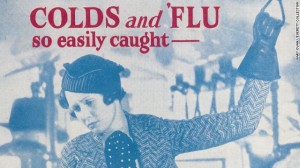 I had it all under control. After coming down with a virus (mild flu?) in January, I got the message and seriously scaled back my activity. Joe Landson, Denise Lopez-Majano, and Claudia Goodell all came through for me in a big way, and shared tremendous guest posts to give me time to recover.
It took close to three weeks, but I clawed my way back to what my friend Trina Berne calls "Normal Shitty Baseline." I felt my brain waking back up, and was able to start cooking dinner again. Then earlier this week, my husband came down with flu-like symptoms plus sinus infection symptoms. He went on Tamiflu and antibiotics, and while the drugs have helped, he has been pretty sick and miserable all week.
I bet you see where this is going. My nasal congestion and sore throat returned yesterday, and I woke up at 5am with a fever. Now I've got a call in to my doctor to see if I need Tamiflu. Because really, this is exactly what I needed to happen now. NOT.
What's weird about it is how different this is from my usual ME/CFS pattern. For most of the last 19 years, I haven't caught upper respiratory infections very easily. My husband gets several a year, but I almost never catch them. I know many patients are susceptible to any infection that comes along, but I seemed to be in the category of patients who were not. I always attributed it to a heightened immune response connected to ME/CFS.
Catching two bugs in a month is extremely unusual for me. It could be random chance, of course. But as with most symptom changes, I always wonder: is my ME/CFS changing? Is my immune system starting to break down after almost two decades of illness? Will this be the new normal?
Hopefully, I won't get as sick as I did last month. Hopefully, I'll be able to follow through on some of the posts I have planned for March. Hopefully, this is just a glitch and I won't be dealing with fevers and congestion all the time.
Because life with ME/CFS can be miserable on a good day, and dreadful on bad days. Because I hate being held hostage by my body. Because I am already so limited by this disease, I resent the hell out of anything that limits me more. Because I would rather be writing.