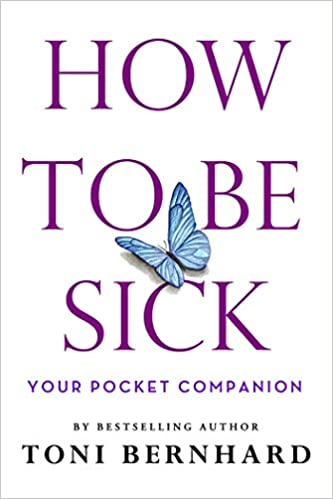 This book is not a regurgitation or abridged version of the best-selling How To Be Sick (which I have previously reviewed here). Toni received requests from readers for a smaller version of the book that they could carry with them and refer to when obstacles arise. Your Pocket Companion is literally designed to be just that. It's small and light enough to go in a purse or pocket, and is packed with concrete suggestions that will help people deal with the many challenges of chronic illness.
Your Pocket Companion is not necessarily meant to be read straight through, although I did. It is organized around ten specific challenges, and Toni offers multiple strategies and practices to help relieve the mental suffering that these challenges bring. I like to think about it as Toni's greatest hits, because she focuses on the issues that come up most frequently and cause the most pain.
For example, we've all had days when our symptoms seem too intense to bear and distraction fails to help. When I am trapped in pain and brain fog, I can't come up with a strategy to ease my suffering. Your Pocket Companion offers ten suggestions for "Responding Skillfully to the Relentless of Symptoms." Many may be familiar to Toni's readers, like "weather practice" and self-compassion. Toni has distilled these practices to their essences. For example, in the second edition of How To Be Sick, Toni devotes four pages to describing Drop-It Practice, and shares a story of how she used it to deal with frustration at a doctor's appointment. In Your Pocket Companion, Toni describes the exercise in 120 words–all you need to apply it in the moment.
Among the other challenges Toni addresses in Your Pocket Companion are how to handle the pain of receiving dismissive medical care, coping with disappointment when a new treatment doesn't help, and coping with new medical problems. She also shares suggestions for loneliness and the pain of being dismissed by family and friends.
There's one challenge that I think everyone can identify with right now, whether or not they are sick: "Accepting Without Bitterness How Restricted Your Life Has Become." I wish I could hand Toni's advice on this to everyone in America right now. She writes, "Life is one surprise after another. Some of them will be to your liking; some will not." Toni couples that reality check with compassion. It's okay to be unhappy about how restricted your life has become. Then gently, she suggests we acknowledge our suffering and treat ourselves with compassion. Toni doesn't say "suck it up;" she says we should do the best we can and then "take the rest as it happens."
One of the hallmarks of Toni's work is her unfailing kindness. She encourages us to abandon self-blame, saying, "Blaming yourself for something that isn't your fault wastes your precious energy." Self-compassion is an essential practice because, "There's no reason to be anything but kind to yourself, both in your speech and your actions." Toni never says we can overcome these obstacles in a forceful, mind over matter, bootstrap way. Instead, her hope is that "you can learn not to let those challenges diminish you." She reminds us that it is possible to find some peace and happiness, even if you are sick.
For me, one of the most hopeful things Toni says in Your Pocket Companion is to "Try counting each moment as a separate life," and a chance to start anew. It's OK if I criticize myself or feel resentment about my symptoms. In the next moment, I can try again. As I've gotten older, I have sometimes felt like my life is over because my "prime" was lost to illness. Toni's suggestion to always start anew reminded me that there is always another chance. Even if I never feel any better physically, there is always another chance to respond to my circumstances. I can always try again, and again, and again.
How To Be Sick: Your Pocket Companion is a portable reference guide, like a how-to manual for coping with illness and caregiving. Having it with you can help you remember to examine your feelings and perhaps find a new way to minimize your suffering. As with all of Toni's books, I cannot recommend it highly enough.
Both the e-book and hard copy versions are now available to order (from the publisher, Amazon, Barnes and Noble, and Indiebound.