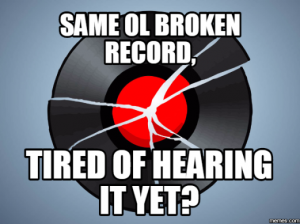 Another CFS Advisory Committee meeting is upon us. The webinar meeting will be held on June 29th and 30th. And as has been the case in the past, the federal approach to the Committee appears lackadaisical. This bare minimum effort is most evident in the failure to fully staff the committee.
As I noted last December, CFSAC currently has only seven of thirteen members. That's because the terms of Ms. Collier, Dr. Corbin, Dr. Casillas, and Dr. Fletcher all expired in 2016. In addition, the charter renewed in September 2016 added two new spots on the roster. So there are six empty chairs.
But this is actually not the worst case scenario. Dr. Sue Levine, Dr. Dane Cook, and Dr. Gary Kaplan all reached the end of their terms in May 2017, but they have been extended until November 2017. Clearly this was a last ditch effort to maintain the bare minimum quorum (and save face). Without extension of those terms, CFSAC would have been down to only four of thirteen members.
What about new members? There have been two calls for nominations, one in April 2016 and another in October 2016. Back in September, I reported that some nominations were working their way through the system. Why aren't any of those nominations approved and ready to go? Beats me. Like I said, lackadaisical.
But new developments show it is worse than that. The four nominations received by CFSAC in response to the April 2016 call were Dr. Cindy Bateman, Dr. Nancy Klimas, Dr. Lenny Jason, and Mary Dimmock. I learned this through a FOIA request. But it turns out Dr. Ken Friedman also submitted a nomination last April. After I reported those four names in September, Ken contacted me and provided proof that he had emailed his nomination. But that information was not included in the FOIA response.
We've seen information go missing before, so I filed a new request asking for production of whatever HHS had received from Ken, along with any other nominations that may have slipped through the cracks.
I received a phone call from the HHS FOIA office this month. Despite the fact that I provided proof that Ken submitted his nomination by email, and despite the fact that HHS accepts that proof, there is no record anywhere of his nomination. The FOIA Officer told me that an extensive search was made, including the involvement of IT personnel, but no record of the email exists on government servers. And no explanation could be offered.
The FOIA Officer also told me that to remedy the situation, Ken would be invited by telephone to resubmit his nomination. But when I checked with Ken . . . . you guessed it. He had not received the phone call (he has since resubmitted his nomination anyway).
In a move that can only be described as placating, the FOIA Officer also told me that the nomination process was being changed. From now on, nominees will be told to contact the office if they do not receive confirmation within 24 hours of sending nominations. If they do not receive that confirmation, they will be given another person's email address for their submissions, with confirmation to follow.
This "improved" process does not make up for the erasure of Ken's nomination, nor does it guarantee that future nominations won't digitally vaporize.
And the real question is: why is it taking more than a year to appoint new members to the committee? CFSAC cannot function with only half a roster. Sure, the committee has a quorum but that's it. Working groups are hamstrung by a lack of committee members, as is the work of formulating and approving recommendations.
So why are we in this situation? Why do we have only half a committee, while nominations are lost or languish in the approval process? Because business as usual for the federal management of CFSAC is like a sloth working at the DMV: