Today, Joe Landson shares his experience as a standard, real patient.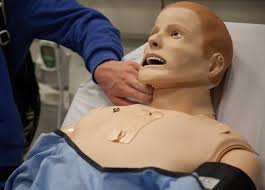 I work occasionally as a standardized patient, though there is not much standard about me.
Standardized patients are actors; we play out a script of symptoms for health care providers and providers-in-training, to prepare them for real-life patients. It's pick-up work. I do it one or two days per month, on average. And that minimal employment is fine for me, because in real life, I'm dealing with a debilitating disease that most doctors don't think exists. I'm living with Myalgic Encephalomyelitis, better known as Chronic Fatigue Syndrome. I have no stamina left. All attempts to work full time, or even steadily part-time, have failed, and have usually left me bedridden. I rarely find myself able to put two good days together. Every day in which I feign functionality and sociability, I follow with (several) days of melting into a bed, couch, or easy chair. I'm reduced to a physical, mental, and emotional wreck, simply by acting normal.
In my acting work, I usually meet trainees trying to do a good job and make a good impression. In real life, I usually face doctors who have no idea what to do with me, and try to pawn me off on someone else. At work, I train; in real life, I face skeptical providers struggling with a disease for which no one has trained them.
In both worlds, you're expected to check the boxes, however pointless this may seem. Once, I had a training session on how to deliver bad news to a grieving parent. I played the parent. The two doctors-to-be could not have been more different in their presentation. The first skipped several steps of his rubric in telling me my young son was not likely to make it out of the pediatric oncology ward. He even swapped my stage name with my 'son's' name, which would obviously be awful in real life. Nonetheless, he succeeded in having a warm sympathetic tone combined with normal human language, and this made all the difference.
The second trainee checked all the boxes. He was clearly prepared to deliver bad news by the numbers, just as the script had taught him. Yet I didn't enjoy this encounter as much. Why? He lacked a sympathetic tone. He seemed, at some points, to be serving a client on his way to shouting 'Next!'.
Now, consider an actual medical encounter. The Veterans Affairs clinic has an intake form screening for suicidal thoughts and pain, amongst other things. Are you in any pain? Yes, my back hurts. Upper, middle, or lower back? Well, nurse, my entire spinal cord feels like it's filled with mild acid, until I exert myself, when the acid slowly intensifies to excruciating levels. No, patient, that is not a valid answer. The pen hovered. Pick upper, middle, or lower. Next! I am not standard; I must learn to follow the script. I never do. I couldn't play my role when the VA decided that ME/CFS sounded like Post-Traumatic Stress Disorder (PTSD), and treatment for that only annoyed me, or made me worse. As Dr. Nancy Klimas said in a March 2009 interview, if ME/CFS patients have PTSD, it's from medical encounters.
One Monday, I scheduled an appointment (a real one) through my VA clinic, or rather took the date they gave me in the far distant future. The next day, my standardized patient manager asked me to work a gig… on the very same day of my VA appointment. It had finally happened. My fake medical life had stomped on my real medical life, and the joke is, both are fake. My life has gone full Franz Kafka. You're welcome.
We managed to resolve the scheduling conflict, but obviously not the underlying one. The sum total of my medical interaction is a hoax, a lie, a simulation. Real or fake, all my medical 'appointments' reinforce that there's not likely to be any effective care for me, because I'm not standard. Patients like me do not fit in today's medicine. Psychiatry tries to claim us, but fails in shoddy efforts like the PACE Trial. Some doctors have explained to my face that the disease does not exist. It's not the doctors' fault, at least not entirely. While research exists, much is contradictory or unreliable. This makes it very hard even to diagnose ME/CFS, let alone to know what to do about it when it is.
Advances in immune science and medicine have lately shown a glimmer of hope in explaining ME/CFS, but we're not at proof yet, let alone at effective treatment. So I guess I'll keep living my fake life, until I finally become just as insane as some doctors already think I am.
I should mention, I can only do this occasional standardized patient gigs because my senior citizen mother drives me to and from them. If I drove myself, or took the noisy, floundering Metrorail train, I would tire out all the faster. Then again… I could always ride my coal bucket, just like Kafka in his story.