One of the worst things someone said to me recently about my disability was:
With all the stuff you're doing, you work just as hard as someone working full time.
The charitable and loving way to interpret this statement is: "You're really doing a lot. I'm worried that you are hurting yourself and not getting enough rest. Please take care of yourself." An even better follow up statement would be, "What can I do to help you?"
But there's another way to interpret this statement: "You are apparently able to work, since you're basically doing as much as that already. You must not be disabled any more."
Whether this second message was intentionally sent or not, it is deeply offensive to me as a person disabled by ME.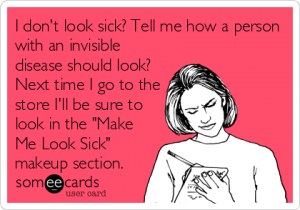 I know I don't look sick or disabled. I know that I have a lot on my plate, between my advocacy and dealing with the realities of our two disability household. But to say that I could work full time?  That's basically gaslighting or willful ignorance.
Since my husband had a stroke more than a year ago, I have been balls to the wall every day. That doesn't mean eight hours of some kind of productivity, by the way. It's more like a frantic few hours trying to get urgent tasks done, then triage everything else. People might see the effort I expend, but they don't see what it costs.
I'm going to be bare bones honest, here. I don't have the capacity to see my friends. I've had multiple near-fainting episodes in recent weeks. We rely almost exclusively on pre-prepared meals. We can't keep up with laundry and other household tasks. I'm afraid to lie down for rest breaks because that usually turns into unintentional three hour naps. The pain and post-exertional malaise feels like I'm carrying a five story building on my back and shoulders. Every evening I collapse onto the couch, barely able to pay attention to the television. Most days, I'm barely making it.
Almost everything I do, I do out of a sense of obligation. Family obligations. Adults-have-clean-houses-and-healthy-food-in-the-fridge obligations. Maintaining this blog and participating in advocacy. Offering emotional support and patience as my husband continues to kick stroke rehab ass. Supporting my friends in their difficulties. Oh, and attempting to manage my own health.
My husband has no problem setting aside obligations in order to heal. A saner person than me would have given more things up a long time ago, and I don't really understand why I haven't. But if you look at me or my life and think, "She could be working," then you are not SEEING me.
You are not seeing the physical pain I deal with every day. You are not seeing the fog that replaces my brain as the day goes on. You are not seeing the force of will that is required for me to remain upright most of the day. You are not seeing that every task, every routine activity, every action that you apparently take for granted, requires intense concentration and determination to track and ultimately complete.
It is so very tempting to imagine singing my theme song (NSFW language) as I exit stage right. But I choose, every day, to live a life that is bigger than the four walls of my house. That's why I stay in advocacy, and why I try to stay on top of all the obligations and aspects of living a normal life.
But if you think that translates into being healthy enough to work full time? Please. You are not paying attention.