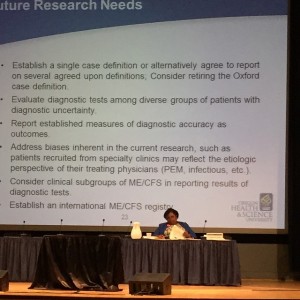 In a surprising move at the P2P Workshop yesterday, Dr. Beth Smith from the Evidence Practice Center (authors of the systematic evidence review) suggested: "Consider retiring the Oxford case definition."
Why was this remarkable? Because the systematic evidence review had included Oxford studies, despite acknowledging that the definition may include people who do not have ME/CFS. Perhaps the Evidence Practice Center heard the well-supported criticisms from myself and others, because in revising their report they said: "Treatment trials . . . should refrain from using the Oxford case definition because it is less specific for ME/CFS than the other definitions are."
But when I asked a question about the suggestion to abandon Oxford . . . well, here is what I said:
I would like to go back to Dr. Smith's suggestion that the Oxford definition should be retired. The evidence review rated at least one Oxford study, the PACE trial, as good quality. And Dr. Snell quoted from the PACE trial manual about the assumptions behind CBT and GET treatments and the inappropriate patient selection in those types of studies.

So as a former attorney, I hope you will forgive my leading question: If the Oxford definition should be retired – and it should – doesn't that lead to the obvious conclusion that Oxford studies should also be retired, at least as applicable to the ME/CFS population?
Dr. Smith's answer was not quite logical. After reminding me that a "good" rating refers to methodology and not the possibility that a study was biased, she said that it was still good to cast a broad net in designing studies.
The Evidence Practice Center (and perhaps AHRQ and NIH?) cannot have its cake and eat it too. If Oxford captures people without this disease, then you CANNOT use Oxford studies to draw conclusions about people with this disease. It makes no sense to say the definition is flawed, and that it should not be used in future treatment trials, and then try to grip the Oxford studies in your sticky fingers by saying it's good to cast a broad net.
The first step in designing a treatment trial or other study is to Define. Your. Study. Subjects. Define them clearly and accurately. It goes without saying that if you want to study a disease treatment, then you should study people with the disease.
Science moves on. That's its purpose. Science is iterative, and as data are accumulated and advances are made, methods and approaches change, too. If the Oxford definition should be retired because the data show that it is inaccurate and flawed in describing people with ME/CFS, then all the data derived from using that flawed definition are suspect.
Chris Heppner was quite prescient in urging us to declare independence from the Oxford definition. Perhaps the P2P Panel will have the logic and common sense to do so, too.