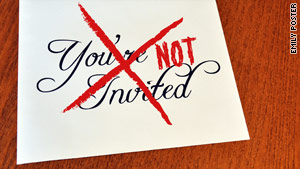 UPDATED November 10 11, 2014 (see below)
Last week, I focused on the problematic choice of several speakers for the P2P Workshop. Today, we're going to focus on the speakers who were NOT invited to the Workshop.
How do I know who was dis-invited? I received this draft agenda for the Workshop through FOIA, and according to documents obtained by Jeannette Burmeister through FOIA, it appears to have been drafted in concert with the Working Group meeting in January 2014. It is important to note that this document may not have been shared with the non-federal members of the Working Group, as several told me they had never seen it.
According to the Draft Agenda document, the following speakers were suggested but do not appear on the current Workshop agenda (I've included links for the unfamiliar names):
Valerie Anderson (has co-authored two papers with Dr. Leonard Jason)
Dr. Italo Biaggioni
Dr. Gordon Broderick
Dr. David Cella (expert in patient reported outcomes)
Dr. Dane Cook
Dr. Mary Ann Fletcher
Dr. Jacob Furst (co-authored two papers with Dr. Jason on case definition)
Dr. John Gore (imaging expert)
Dr. Arthur Hartz
Dr. Mady Hornig
Dr. Anthony Komaroff
Dr. Gudrun Lange
Dr. Kathy Light
Dr. Ian Lipkin
Dr. Dana March
Dr. Vivian Pinn (former director of Office of Research on Women's Health at NIH)
Dr. Satish Raj (co-authored papers with Dr. Italo Biaggioni)
Dr. Judith Richman (co-authored two papers with Dr. Jason)
Dr. Peter Rowe
Dr. Dikoma Shungu
Dr. Julian Stewart
Dr. Jon-Kar Zubieta (neurobiological basis of mood disorders)
Patient speakers: Denise Lopez-Majano, Jennifer Spotila, Dr. Lily Chu
There are fourteen ME/CFS expert researchers on that list, eighteen if you count Dr. Jason's and Dr. Biaggioni's co-authors. FOURTEEN experts in ME/CFS biomarkers, pathophysiology, and clinical care who were originally proposed as speakers and who ultimately did not make the list. (Update: a commenter rightly pointed out that it is possible these experts were invited and declined. I've sent inquiries to see if I can determine how many may have declined. I'll report what I find out.)
And to bring it full circle to last week's post, three speakers on the current agenda were not originally proposed: Dr. Andreas Kogelnik, Dr. Niloofar Afari, and Dr. Daniel Clauw.
Here's the $64,000 question: who at NIH decided it was a good idea to invite Dr. Afari and Dr. Clauw to address how to foster innovative research in place of, for example, systems networking pioneer Dr. Gordon Broderick or long-view Dr. Anthony Komaroff or infection/immune guru Dr. Ian Lipkin?
How does this make any sense for a Workshop that will charge a group of non-ME/CFS experts with making recommendations on future ME/CFS research?
UPDATE November 10 11, 2014: I reached out to the ME/CFS experts on the original list to see if any had been invited and declined. Of the ten who responded, six were not invited and three were invited and declined. One was invited and accepted, and a source told me that the agenda will be finalized soon, so we may see some changes.